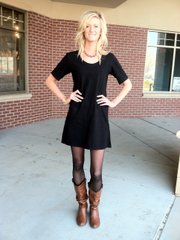 Name: Alisa Lautzenheiser
Age: 22
Sign: Cancer
Relationship Status: Happily attached
Hometown: Angola, Ind.
Time in Lawrence: Two years
Occupation: Hairstylist at Lada Salon & Spa
What were you doing when scouted? Working at the salon.
How would you describe your style? It changes from day to day. I wear whatever I feel like that day, and I enjoy being comfortable in my clothes.
What are your current favorite fashion trends? Vintage clothing and accessories, boots and dresses.
What are your least-favorite fashion trends? Spandex anything and inappropriate dresses.
What would you like to see more of in Lawrence? Thrift stores, street vendors and specialized boutiques.
What would you like to see less of in Lawrence? Frat boys wearing pastel polos, khaki shorts and flip flops — it's just silly!
Do you have any piercings or tattoos? Yes and yes.
Do you have any fashion influences? My friend Kanani Anela Warner and anyone else who catches my eye because of their unique style.
People say I look like … Olivia Newton John in her early years.
Tell us a secret: Secrets, secrets are no fun!
Clothing details:
Boots: Charlotte Russe, 2009, $20.
Dress: American Apparel, borrowed from friend.
Necklace: Lawrence Antique Mall, April 2011, $2.
Bracelet: Lawrence Antique Mall, April 2011, $2.
Copyright 2018 The Lawrence Journal-World. All rights reserved. This material may not be published, broadcast, rewritten or redistributed. We strive to uphold our values for every story published.