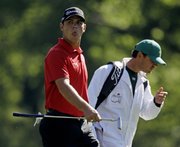 Augusta, Ga. — On the far end of the course Wednesday, near the only palm tree at Augusta National, Lee Westwood rolled long putts across the fourth green as he practiced alone on a quiet afternoon before the Masters.
Through the pines and dogwoods, down a steep slope toward the 16th green, players stopped on the edge of the 16th green to the fans' delight and tried skipping shots across the pond and onto the green.
It sure didn't feel like the day before the first major of the year.
But then, Augusta National has a way of putting players at ease with its sheer beauty, when the Masters is more about azaleas and jasmine and enjoying a special place than trying to win a green jacket.
That figures to change today.
"The Masters has a fear factor, and that's the best thing about this golf course," three-time champion Nick Faldo said Wednesday.
Phil Mickelson will try to join some exclusive clubs when he tees off in the opening round as the clear favorite. He can go to No. 1 in the world for the first time in his career. He can join Jack Nicklaus, Tiger Woods and Arnold Palmer as the only players with at least four green jackets. And he can become only the fourth player to win the Masters in consecutive years.
"The Masters will always start with Tiger and Phil," said Robert Allenby. "Their record here and the way they play Augusta make them the two to beat."
The difference this year: They have some company.
Copyright 2017 The Associated Press. All rights reserved. This material may not be published, broadcast, rewritten or redistributed. We strive to uphold our values for every story published.