Get information on the issues, candidates and results of the 2011 elections.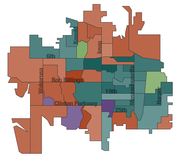 View an interactive map of the results for the Lawrence City Commission election held April 5, 2011.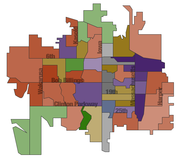 View an interactive, precinct-by-precinct breakdown of the results for the Lawrence school board election held April 5, 2011.
Blame it on the weather.
Maybe 70-degree temperatures and sunny skies caused people to just find something else to do besides vote in Tuesday's city and school elections.
No, it doesn't make a lot of sense, but whatever caused a 13 percent voter turnout in Lawrence was happening in other communities too. To a larger degree, in fact.
"I've talked to a number of my peers today, and it really sounds like this was an issue statewide," Douglas County Clerk Jamie Shew said.
A quick check by the Journal-World found that turnout in Sedgwick County was 12.7 percent. In Shawnee County, it was 11.6 percent. In Johnson County, it was 9.7 percent.
Think maybe in smaller counties the story was different? Nope. Jefferson County was 8.1 percent and Franklin County was 7.1 percent.
Need for a change?
Douglas County's low turnout, which marked the third consecutive city/school election to see a decline in turnout, had some people asking whether we are voting at the wrong time. There long have been questions about why city and school elections take place in April instead of in November when statewide and national elections are conducted.
The simple answer is because state law dictates it, but state law could be changed. In fact, there was a bill introduced this legislative session to move local elections to November, Shew said. But it never got much support.
"We opposed it," said Kimberly Winn, deputy director of the League of Kansas Municipalities.
Winn said putting city and school board races on the November ballot would be a bad idea because it would minimize city elections.
"If local elections were tied to a presidential ballot, you can about guess how much coverage the local elections would get," Winn said. "Next to none."
But she said even more troubling is that it would introduce partisan politics into local elections. Candidates in city and school board elections do not run under a political party banner. They do in state and national elections.
"I think it would inherently make those elections partisan," Winn said.
Other concerns that have been brought up about a change to November include that ballots — by the time you print everything from presidential candidates to local judges — would be really long.
But some said even if local elections aren't moved to November, we ought to still think about moving them on the calendar — to a different day of the week.
Carrie Lindsey, a board member of the Lawrence-Douglas County League of Women Voters, said maybe it is time to consider moving elections to Saturdays.
"We live in a time and economic situation where people are expected to work," Lindsey said. "If you have a job right now, you don't take off to vote even if somebody says it is OK."
State law doesn't allow local elections to be on a Saturday, but it does allow special elections — like for a bond issue — to take place any day of the week, Shew said. He said he has tried to encourage past special elections to be on a Saturday just to see if it would make a difference in turnout.
"But I think there are a lot of people really tied to Tuesdays," Shew said.
It's about the issues
At the end of the day, several election-watchers said there's probably no simple answer. Shew said voter turnout long has been tied to how interesting voters find the particular candidates and issues of the day. Shew said he thought the talk of school consolidation would create more interest, but perhaps the issue only captivated parents directly impacted by possible district changes.
Lindsey is not so sure. She said the large number of school board candidates was a good indicator that people found the issue important.
"I just have a hard time believing that 13 percent turnout reflects the level of concern people have about this issue," she said.
But then again, she said, maybe it is that people are concerned but just don't think government will end up doing anything to address their concerns.
"There is so much visceral gobbledygook about how bad government is, why would you choose to participate?" Lindsey said. "We have to be very careful because it can become a self-fulfilling prophecy."
Copyright 2018 The Lawrence Journal-World. All rights reserved. This material may not be published, broadcast, rewritten or redistributed. We strive to uphold our values for every story published.