Photo Gallery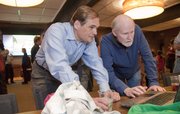 2011 Lawrence school board election night
Candidates Rick Ingram, Randy Masten, Keith Diaz Moore and Shannon Kimball were elected to the Lawrence school board Tuesday, April 5, 2011.
View an interactive, precinct-by-precinct breakdown of the results for the Lawrence school board race.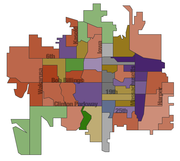 View an interactive, precinct-by-precinct breakdown of the results for the Lawrence school board election held April 5, 2011.
Lawrence school board will enter the next school year with a new majority of members, a group intent on improving communication with the public, increasing information-gathering from the public and perhaps even soliciting budget ideas, suggestions and other advice from the public.
Four new members won election to the seven-member board Tuesday and will begin their four-year terms July 1:
• Rick Ingram, a professor of psychology at Kansas University, received 3,650 votes.
• Shannon Kimball, an attorney — now stay-at-home-mom — who served on the Lawrence Elementary School Facility Vision Task Force, received 3,517 votes.
• Randy Masten, a retired U.S. Army intelligence officer now pursuing a doctoral degree at KU, received 3,506 votes.
• Keith Diaz Moore, an associate professor and associate dean of graduate studies in the School of Architecture, Design & Planning at KU, received 3,467 votes.
Shared traits
Results remain unofficial until certified by Douglas County commissioners, who meet at 9 a.m. Monday to review vote totals and consider 107 provisional ballots. But the four winners will be expected to remain there.
"All of the top four candidates, we embrace a sense of community participation, and taking seriously the task force report that has the process and community-participation aspects in it," said Diaz Moore, citing a report that calls for consolidating elementary schools with assistance from neighborhoods and school communities that would be affected. "I think all of us have had a message of real financial responsibility in our campaigns.
"And I think that's very clear: All four of us share those traits, and I think that's what the district wants."
The four will replace four incumbents, including Marlene Merrill, a retired educator who finished fifth with 3,102 votes. Mary Loveland, Rich Minder and Scott Morgan did not seek re-election.
Merrill noted that the winners had the ability to campaign without carrying the unwelcome baggage that comes with cutting millions of dollars from budgets during the past several years, nor having to chart a specific course for the anticipated financial shortcomings of the next several years.
"I'm sure they'll do the best they can, no doubt about that," Merrill said.
Getting to work
Ingram said he was looking forward to getting to work on school issues right away, even before he and his newly elected colleagues can take office. He's been an advocate for conducting electronic forums, to collect input from people about various issues. He wants to create a public budget committee, filled with volunteers willing to help find potential savings.
He wants the public to have a say in upcoming talk about school consolidation.
"The community really wants to have some genuine input into the process," said Ingram, who invites people to email him at ringram@sunflower.com. "If there's any one message, that's it."
Kimball's campaign included a focus on seeing the task force's work carried through. She was among two dozen volunteers who spent eight months studying the district's elementary schools in search of needed upgrades and potential savings.
The task force concluded that Wakarusa Valley School should close next year, a decision the school board reached last month. The task force also recommends consolidating six elementary schools into either three or four within the next three to five years.
"I think people are very engaged in the issues right now, and I think they're looking for strong leadership," Kimball said. "People have followed the (task force) process and want us to honor the community input that has been given so far, through that process."
Masten embraces the task force's work but cautions that its recommendations must carry true public support to become reality. That's why the district needs to improve its communications, especially when it comes to budgets and other major decisions.
"Lawrence has got a lot of very smart people, and they want to see the facts for themselves, and they want to have the ability to comment," Masten said. "And I think the train's moving a little too fast right now for some people towards closings and consolidations.
"If they have to happen, we've got to have a very open, understandable process for choosing the schools that we do. I'm not saying they haven't done a good job of looking at it. I just think the communications side of it has not been as good as it could be."
Diaz Moore wants increase public participation in district business, through task forces and advisory committees — all part of an overall plan to increase transparency that could help everyone move forward after difficult decisions and issues that have surfaced in recent years.
"We have to try to rebuild trust in the school district," Diaz Moore said. "What's important now is to we have to build community buy in, and make sure we move forward as one community — that even if we disagree with the decisions, we at least understand where they came from."
Copyright 2017 The Lawrence Journal-World. All rights reserved. This material may not be published, broadcast, rewritten or redistributed. We strive to uphold our values for every story published.