Photo Gallery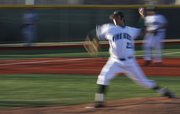 Free State baseball vs. Olathe East
If coach Mike Hill is right about his Free State High baseball team, the rest of the Sunflower League — and Class 6A programs in Kansas — have quite a bit to worry about.
Because after the Firebirds throttled Olathe East, 13-3 in six innings, on Tuesday evening at FSHS, Hill and the boys were only moderately pleased with their outing.
"You win 13-3 and it looks like a great performance," Hill said. "But there were a few things underneath that we've got to correct to become the kind of team we want to be at the end."
There was a first-inning error that led to an unearned run, a few wild pitches after strikeouts, and a few missed signs, as Hill pointed out.
Aside from that, Cody Kukuk struck out 12 in five innings and the Firebirds pounded out 13 hits, including four straight to open their four-run first inning.
FSHS (4-0) scored two more runs in the second, five more in the third, and ended the game with two in the sixth — a home run by Montana Samuels and a sacrifice fly by Joe Dineen.
Colin Toalson doubled twice and scored three runs, Lee McMahon had three singles, and Kukuk had two hits, including a bases clearing triple in the third.
The Hawks (1-3) also didn't help their cause by committing four errors, but all — except a handful — of FSHS's 13 hits were crushed.
"We were able to get some balls in the air," said Samuels, who also doubled in a run. "Early, the wind was blowing out really hard, which is nice to have. But we were able to get pitches we were able to hit and put good contact on the ball."
When he wasn't blowing hitters away with his fastball or freezing them with his curve, Kukuk, at times, struggled with his command.
Kukuk (3-0) walked three and twice saw a runner advance to first after throwing a wild pitch on the third strike.
"I feel like I didn't have my best stuff," Kukuk said. "But you just keep working through it, pumping strikes."
Hill left Kukuk on the mound precisely so Kukuk could extend his pitch count and work his way out of jams, and the senior lefty rose to the occasion.
Despite loading the bases in the fifth inning, Kukuk settled down and struck out O-East outfielder Scott Freeman to end the threat.
"He's not going to be dynamite every time he steps on the mound," Hill said. "He was good today. The expectation is he'll be unhittable and strike everyone out. The thing that pleased me most was what he did at the end."
The Firebirds play at 5:30 p.m. on Monday at Olathe North.
Copyright 2018 The Lawrence Journal-World. All rights reserved. This material may not be published, broadcast, rewritten or redistributed. We strive to uphold our values for every story published.