Photo Gallery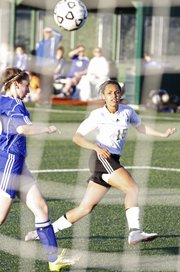 Free State soccer vs. Leavenworth
It may just be a start. But it's a record-setting one for the Free State High girls soccer team.
After Tuesday night's 5-2 victory over Leavenworth (0-3) at FSHS, the Firebirds are 3-0 for the first time in school history.
"It definitely feels good getting off to a good start," sophomore Chelsea Casady said. "Last year it took us a while to get used to it, but I think this year is a refreshing year."
Freshman Alexa Harmon-Thomas scored twice and tallied an assist to lead the Firebirds, who also got goals from Hillary Yoder, Allix Ice and Madisyn Warinner.
Kylee Loneker and Chelsea Casady each notched assists to help lead FSHS to a 4-0 halftime lead.
"We're excited that we've had this kind of start," coach Kelly Barah said. "We're just hoping that we can keep on this track, in terms of not only winning, but playing the right way."
FSHS (3-0) will face Olathe Northwest at 7 p.m. on Thursday at ONW.
Copyright 2018 The Lawrence Journal-World. All rights reserved. This material may not be published, broadcast, rewritten or redistributed. We strive to uphold our values for every story published.