Photo Gallery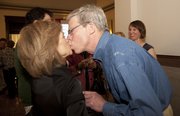 Lawrence City Commission election night
Bob Schumm, Hugh Carter and incumbent Mike Dever won positions on the Lawrence City Commission Tuesday, April 5, 2011.
View an interactive, precinct-by-precinct breakdown of the results for the Lawrence City Commission race.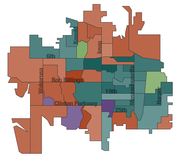 View an interactive map of the results for the Lawrence City Commission election held April 5, 2011.
Experience seemed to matter Tuesday to the voters in the Lawrence City Commission race — or at least to the ones who showed up.
Voters gave big victories to Bob Schumm and Mike Dever, the two most seasoned candidates in the field. Hugh Carter, a political newcomer but the son of a former Lawrence mayor, also won a spot on the commission with a third place finish.
"I think voters liked that I had both business experience and City Hall experience," said Schumm, a longtime downtown restaurant and bar owner who previously served on the commission in the early 1980s and early 1990s.
But mainly voters liked to stay home. Turnout countywide was estimated at 13.3 percent, and several precincts in Lawrence had single-digit turnout totals.
"This election was not a mandate by the public to do anything special," Schumm said. "You can't read a mandate into any of this."
Unofficially, Schumm took the top spot in the election with 5,428 votes. Dever, the owner of a Lawrence-based environmental consulting firm and the lone incumbent in the race, finished just 16 votes behind to take second place. Carter, a Lawrence financial adviser and former member of the Lawrence-Douglas County Planning Commission, garnered 3,910 votes. Schumm and Dever both will receive four-year terms on the commission. Carter will receive a two-year term.
That trio held the top three spots as soon as vote totals started being released around 7:30 p.m., and the other two candidates never were able to gain much ground. Mike Machell, a human resources director and chairman of the city's Library Board, finished in fourth place with 3,362 votes. Lawrence architect Sven Alstrom garnered 2,254 votes.
Candidates said it was hard to determine what issues really motivate voters in the campaign.
"I think a lot of this shows that people are still focusing on digging themselves out of their own personal situations," Dever said. "And I think part of it is that there haven't been a lot of glamorous issues at City Hall lately."
Dever said he will urge the commission to continue focusing on balancing budgets, coming up with a plan for the city's trash service and converting the former Farmland Industries property into a business and industrial park.
"I feel like we have built a good foundation over the past few years, and now it is time to build out the rest of the structure," Dever said.
Schumm said he thought three issues swayed voters to varying degrees: opposition to special taxing districts, concern that the city's living wage provisions may be weakened, and support for finding the Lawrence Community Shelter a new home.
"I think I endeared myself to the shelter supporters because I said I really want to take a leadership role on that issue," Schumm said. "I think there's more the commission can do on that."
Carter — who is the son of former mayor Ed Carter, who served briefly with Schumm in the early 1980s — said he wants to focus on improving the city's economic development efforts. He said he will push to create quarterly business roundtable sessions where elected leaders receive input from local business owners.
"I think we'll find that the small business experts in this community know best how to create an environment to grow jobs," Carter said.
Schumm, Dever and Carter will take their seats at next Tuesday's City Commission meeting. They will join incumbents Mike Amyx and Aron Cromwell. Rob Chestnut and Lance Johnson both chose not to seek re-election and will finish their terms Tuesday.
Copyright 2017 The Lawrence Journal-World. All rights reserved. This material may not be published, broadcast, rewritten or redistributed. We strive to uphold our values for every story published.