Staying young at heart is important to renowned classical pianist Alpin Hong. It not only adds variety to his hectic life, but also helps some audiences, those not of the traditional tuxedo-and-cummerbund crowd, relate to his classic repertoire.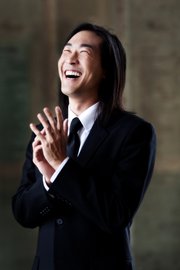 For Hong, who's performing at 7:30 Friday at the Lied Center, living a free, fun life is essential — not only to his psyche, but also in how he can act as an ambassador of classical music.
Past Event
When: Friday, April 8, 2011, 7:30 p.m.
Where: Lied Center, 1600 Stewart Drive, KU campus, Lawrence
Cost: $5 - $24
-->
-->
"I'm aware that it's not immediately accessible," he says, "but what I want the audience to experience is what the classical artists were trying to do. They all have this personality that accompanied them. The idea is to feel what it was like back in the day, the chamber music aspect of going to a performance — to explore music together."
Hong is an active skate and snowboarder and avid lover of video games and gadgets. In his shows, and particularly toward younger audience members, Hong uses his neoteric life's influences to help craft the performance and engage the crowd.
"I just performed at the University of Florida, and, after halftime, I was doing some improvisation on 'Star Wars,' and 'Jeopardy,' and 'Super Mario Brothers,'" he says.
"It was funny, you'd think only kids would be excited about that, but people of all generations, it's in their minds. When I do that, I find I get an audience to relax, whether they're very well-versed in classical music or not."
Grabbing younger generations' attention and drawing them into the increasingly less-accessible genre of classical music is important to Hong. Besides the upcoming show at the Lied Center, he will be working with the Lawrence school district, performing concerts for children, and possibly playing in Baldwin City schools as well. He is also scheduled to play for the Lied Center's Performing Arts 3to5 program, for preschool-aged children.
"Younger people need to be shown this music," he says. "The reason I do outreach is it's absolutely essential for brain development and the concept of systems. If you learn music, you're learning another language, but it's not restricted by nationalism or creed. It's a very universal relationship. "
Anthea Scouffas, director of education at the Lied Center, says Hong's musical involvement with children is incredibly important to their lives and development as human beings.
"Music can help with math skills, it helps with studying," Scouffas says. "Music, like many other arts, can help stimulate both sides of the brain. Kids learn by using their senses, and any type of performance art is ideal for that. All kids need a place to trust themselves in school, so for those kids with a natural affinity for music, it's a perfect match. It can promote self-esteem. There's just a number of ways that music and performing arts theater and dance can help a child in school."
Scouffas says that Hong's use of contemporary themes from movies and other media to convey his art helps children focus and relate to the subject matter.
"He's got an outreach program called Movies to Gain, Classically Trained," Scouffas says. "Many kids know music through movies, like 'Harry Potter' and 'Star Wars.'
"He kind of shows how classical music is used in these movies," she adds. "It's a good way of bringing kids into music, because they'll know about what is being played."
Scouffas says, in the end, teaching subjects like music to children is communicating life experiences and the human condition.
"Art nourishes the human soul, it is part of what it means to be a human being, to express ourselves. For us, that's the biggest part. Basically, it is what being a human is all about."
Tim Van Leer, executive director of the Lied Center, says he's delighted to have a musician as talented and accomplished as Hong playing at the performance hall.
"He's an outstanding artist, and we're really thrilled to be presenting him. This is one of those concerts that we're all looking forward to. I think the audience is going to see someone who's very versatile at the keyboard, playing music I think is approachable, and that will make for an enjoyable evening."
Van Leer expects Hong's outgoing personality to pull the crowd along, guiding listeners of all levels of classical knowledge on a tour of some of the great works of classical music.
"I think he will engage the audience," he says. "He will share about the music, and I think the interesting thing is that he looks at his program with a diversity of work.
"Many times, you'll get a pianist who will play sonatas of one composer in the first half, and another composer in the second half of the show. But in Alpin's situation, he's tried to look at the contrast in work of various composers, and that can give you a broader range of sound throughout the concert and it makes it more enjoyable."
Copyright 2018 The Lawrence Journal-World. All rights reserved. This material may not be published, broadcast, rewritten or redistributed. We strive to uphold our values for every story published.