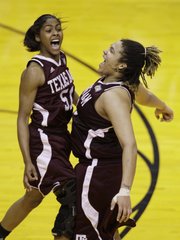 Indianapolis — Texas A&M;'s defense was good enough to upset two No. 1 seeds. The Aggies will find out Tuesday night if it is good enough to win their first national championship.
Sydney Colson drove the length of the floor and found a cutting Tyra White for a layup with 3.3 seconds left to give the Aggies a thrilling 63-62 victory Sunday over Stanford, which goes home from its fourth straight Final Four without a championship. The teams traded leads five times in the final minute, capping A&M;'s remarkable rally from a 10-point deficit in the final six minutes.
And they're not finished yet.
"It's time to make history," Colson said.
The Aggies (32-5) already have done that by punching a ticket to their first title game. Beat homestate favorite Notre Dame, a 72-63 upset winner over Connecticut, on Tuesday night and the Aggies (32-5) will have far more to celebrate in a year the program produced its first All-American, Danielle Adams, and broke through on the national stage by beating Baylor last week after three losses to the top-seeded Bears this season.
"Give credit," coach Gary Blair said after winning his first semifinal game in two tries. "Defense will win for you."
And Sunday's comeback will not be soon forgotten.
When Stanford took a 54-44 lead with 6:01 to play, most people inside Conseco Fieldhouse assumed the Cardinal were heading to their third title game in four years.
The Aggies — and that oppressive defense — had other thoughts.
Stanford (33-3) managed only two more baskets the rest of the night, and A&M;'s aggressive offensive moves got them back into the game.
The Cardinal just couldn't stop the rally.
"I thought we played very well to get the lead," Stanford coach Tara VanDerveer said. "We had to do some things that we don't have to do all season long against anyone else."
That was the plan all along.
The A&M; players said they wanted to make Stanford uncomfortable and the Cardinal never looked more flustererd than in that frantic final minute.
Colson, who woozily went to the bench after a hard screen earlier in the half, gave Texas A&M; a 59-58 lead by making two free throws with 53 seconds left.
Eighteen seconds later, Adams was called for a foul on Stanford's Nnemkadi Ogwumike. The upset Adams got up and started running toward the Aggies bench, with one of the referees telling her to calm down. Ogwumike made both shots to give Stanford a 60-59 lead.
"It was hectic, you know," Aggies guard Sydney Carter said. "Everybody was saying 30 seconds for the rest of y'all's lives."
Turns out 30 seconds was still an eternity in this game.
A&M; came back with White's layup with 19 seconds to go, only to have Ogwumike answer with a tough layup of her own with 9 seconds left that gave Stanford a 62-61 lead.
The Aggies, without a timeout, immediately got the ball to Colson, who raced up the floor and dished to White for the winner.
White finished with 18 points, and a slow-starting Adams had 16 points to lead the Aggies.
The Cardinal were led by Ogwumike's 31 points.
Copyright 2018 The Associated Press. All rights reserved. This material may not be published, broadcast, rewritten or redistributed. We strive to uphold our values for every story published.