Photo Gallery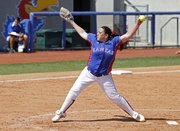 KU vs. Nebraska softball
If it seems like Kansas University's softball team is playing a ranked team every weekend, it's because it is.
For the second straight day, No. 16 Nebraska's Ashley Hagemann shut down KU's lineup, this time in a 7-1 NU triumph on Sunday afternoon at Arrocha Ballpark.
A day after being limited to one hit in a shutout by Hagemann, KU scraped together five hits Sunday, including a second-inning homer by Liz Kocon that gave KU a 1-0 lead.
"Yesterday, we gave up," Kansas coach Megan Smith said. "Today we fought, at least."
Neither the Jayhawks' confidence, nor their mood has wavered — even considering their 0-6 start to begin conference play, and the current stretch in which they've dropped seven of their last eight games.
The Big 12 Conference — with eight teams currently ranked in the Top 25 — is especially stacked this year, but Smith is intent on proving that KU (27-10 overall, 0-6 Big 12) can contend with anyone.
Keep fighting, she stressed. Keep improving. Keep rebuilding the program, as she put it.
"They have to understand that there are going to be bad days," Smith said. "And we're going to have to get over them quick. And I think we're struggling with that right now."
Bolstered by Kocon's 10th home run of the season, freshman Kristin Martinez looked sharp to begin, as she tossed three scoreless innings, navigating her way out of a few jams.
But NU (30-4, 3-1), led by a four-hit day from Tatum Edwards, struck for single runs in the fourth, fifth and six to pull ahead, 3-1.
The Huskers put the game away with a four-run sixth inning, but the 3-1 edge was plenty for Hagemann, who settled in after Kocon's homer and went the distance while striking out 11 to earn her 22nd win.
After a torrid start at the plate to begin the season, KU's bats have cooled considerably. The Jayhawks are hitting only .172 with 10 runs scored in their six conference games.
Smith was complimentary of NU's pitching, but at the same time emphasized her team can hit. The Jayhawks, still batting .298 as a team with 41 homers, know they can swing it, too.
"I think our eyes our just getting a little too big," Kocon said. "We just need to go back to the basics of hitting and stay tight. And not swing for the fences all the time."

Still in search of their first conference win, the Jayhawks will play host to No. 14 Oklahoma in a doubleheader starting at 4 p.m. Wednesday.
"We need to get back to remembering that we're good team," said Rosie Hull, who had one of KU's five hits. "Like, look at our (nonconference) season. We're the same team … I think it's just about realizing that we're as good as these teams, and we can play with them."
Copyright 2017 The Lawrence Journal-World. All rights reserved. This material may not be published, broadcast, rewritten or redistributed. We strive to uphold our values for every story published.