Photo Gallery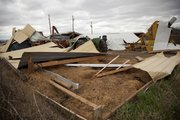 'Gustnado' causes minor damage in Williamstown
A "gustnado" rolled through Williamstown on Sunday evening, damaging irrigation equipment, at least one structure and a railroad crossing.
According to Scott Blair, a meteorologist at the National Weather Service, the dust cloud was not technically a tornado, but instead an area of enhanced wind damage — called a gustnado — that hit the small community about 10 miles northwest of Lawrence in Jefferson County.
He said that about 7:20 p.m., the gustnado had a strong vortex at the surface that may have made it look like a tornado. The gustnado was part of the storm that produced two-inch hail.
A report from the National Weather Service said winds inside the gustnado blew up to 80 mph. It lasted for five minutes, and at one point was a quarter-mile wide.
Barbara Mowder, Williamstown resident, said she had been watching weather reports on television when she started hearing the wind.
"This had more of a roar to it," she said Monday morning.
Mowder said it looked like a large dust cloud. She watched as the gustnado took out a metal building in a field. At least two irrigation systems were damaged by the storm, and the arms were ripped off a railroad crossing.
Mowder said she didn't hear tornado sirens until after the storm moved through.
"I've lived here 40-some years, and I've never seen something like that," Mowder said. "I've seen tornadoes on the news, but this was so much different."
Gordon Michels, with Midwest Irrigation Systems, was assessing damage Monday to the two irrigation systems that were blown around during Sunday's storm. He said to replace both new would be $55,000. He said such damage wasn't uncommon during high winds or tornadoes.
Copyright 2018 The Lawrence Journal-World. All rights reserved. This material may not be published, broadcast, rewritten or redistributed. We strive to uphold our values for every story published.