Photo Gallery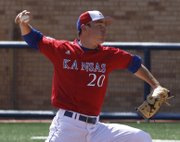 KU vs. Baylor baseball
Kansas University took the baseball field in position to sweep a Top-25 conference foe and left it wondering why that wasn't enough to fire the Jayhawks up.
Sunday at Hoglund Ballpark, KU fell to No. 19 Baylor, 12-4, in a series finale in which the Jayhawks never threatened.
"I was disappointed in our level of competitiveness today," KU coach Ritch Price said. "We could've done something really special today and made a statement."
Instead, it was the Bears who did that, scoring 12 runs on 13 hits, including four home runs, to improve to 17-12 overall, 4-5 in Big 12 play, while dropping the Jayhawks to 12-15 and 4-5.
"From the first inning, putting up a two-spot, it seemed like they were kind of energized," said KU catcher James Stanfield, who went 2-for-5 and was the only Jayhawk to record more than one hit. "They really didn't want to get swept."
Baylor scored two runs in the top of the first, on RBIs from Cal Towey and Dan Evatt, and didn't seem to have any interest in slowing down. The Bears added three in the third, one in the fourth, sixth and seventh, three more in the eighth and a final run in the ninth. That last run came in the form of a solo home run from Evatt, one of four Bears who hit home runs despite a 20-plus mile-per-hour wind blowing in from right field.
While the Bears knocked the ball to all parts of the field, the Jayhawks struggled to string hits together. Despite giving up two runs out of the gate, KU loaded the bases in the bottom of the first, but could not push a run across.
"I think I was most disappointed in the at-bats we had early," Price said. "We squandered a lot of opportunities to score. If we could just have gotten a base hit there, it's a tie ballgame, and we're back in it."
Asked to defend their uninspired play, the Jayhawks had few answers.
"I can't explain how we have two really great games and then one where it seems like everything's going wrong," Stanfield said. "We played really great (Friday and Saturday), and you can't just shove that under the rug. But it is disappointing to end the series like this. Like skip said, 'This was a good weekend, but it could've been a great one.'"
Added first baseman Zac Elgie: "We have so many young guys, so many inexperienced people. It kind of just takes a little bit to get everybody on the same page because it really is a whole team effort. We gotta pitch well, we gotta play defense, and we gotta swing the bats."
Freshman pitcher Alex Cox (0-3) took the loss for the Jayhawks. The Jayhawks sent 14 batters to the plate — nine starters and five pinch-hitters — and managed to bang out just nine hits in 35 at-bats. One highlight for Kansas came in the ninth when Tucker Tharp picked up the first hit of his college career on a bloop single to right field.
KU will play host to Missouri State at 6 p.m. Tuesday before traveling to Kauffman Stadium, home of the Kansas City Royals, to take on Missouri at 5:30 p.m. Wednesday.
Copyright 2018 The Lawrence Journal-World. All rights reserved. This material may not be published, broadcast, rewritten or redistributed. We strive to uphold our values for every story published.