A few education-oriented items from around the area: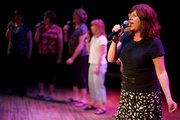 Need a way to celebrate mailing in your taxes*?
Try grabbing a seat at the 21st annual Foundation Follies, set for the evening of April 15 at Liberty Hall.
The annual show — a benefit for the Lawrence Schools Foundation — featuring educators who at times may be a bit out of their elements. Among the high-quality acts expected, according to organizers:
• "Longtime favorite teachers" Martha Wenzel, Carolyn Welch.
• David Reber with his ISS hard rock band.
• Group acts from at least 11 different schools, including a "silent" Hallelujah Chorus; a song from the production "Hair"; a Bob Marley medley; and an encore yoga act by educators from Quail Run School.
Hosts for the event are the foundation and the Lawrence Education Achievement Partners, and guests will enjoy food from Bigg's BBQ and beverages from Cork & Barrel and O'Malley Beverage of Kansas.
"This year looks to be a sellout, with only a few tables remaining at this time," said Katherine Dinsdale, co-chairwoman for the 2011 Follies.
Anyone interested in sponsorship opportunities, or in making an individual reservation for $35, may contact the foundation office at 330-2790.
(* While April 15 typically is the deadline for filing your federal income taxes, here's a note from the IRS: "Taxpayers will have until Monday, April 18, to file their 2010 tax returns and pay any tax due because Emancipation Day, a holiday observed in the District of Columbia, falls this year on Friday, April 15. By law, District of Columbia holidays impact tax deadlines in the same way that federal holidays do; therefore, all taxpayers will have three extra days to file this year.")
•••
Wakarusa Valley School is closing at the end of this school year, but the Lawrence school district is making plans to use the building — possibly as a new home for the Lawrence Virtual School.
While a formal decision about the future use of the site remains undetermined, one thing appears fairly settled: The school's playground equipment likely will remain on site for use by the community.
"Our intent would be to leave it as is," said Frank Harwood, the district's chief operations officer.
If the district would opt to "mothball" the site, as has been discussed in the past, the fate of playground equipment would be less secure. That's because without any operational presence, the district would face increased liability for playground equipment, Harwood said.
But if the schools ends up being used for a school purpose — such as the Virtual School — the district would have a custodian on duty, someone who could check the equipment and see that it remains in a safe condition.
•••
Students looking to learn to drive are invited to attend an enrollment meeting for Summer Driver Education, set for 8 a.m. to 11 a.m. Saturday at Free State High School, 4700 Overland Drive.
The district plans to offer two sessions — 7 a.m. to 11 a.m., and 11:30 a.m. to 3:30 p.m. — from June 2 to July 1 at Free State.
Organizers remind participants that the "course is competency-based: COMPLETION MEANS THAT A STUDENT HAS: 1) Successfully passed 14 written tests and 2) Successfully passed required driving skills."
For more information, visit the page on the district's website, USD497.org.
Copyright 2018 The Lawrence Journal-World. All rights reserved. This material may not be published, broadcast, rewritten or redistributed. We strive to uphold our values for every story published.