Photo Gallery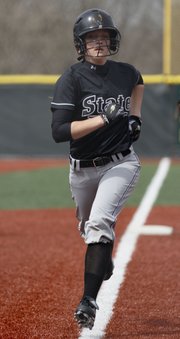 Free State softball vs. Shawnee Mission South
Sometimes, all it takes is the right attitude at the plate.
Such was the case Saturday afternoon, when Free State High's softball team opened its season by sweeping Shawnee Mission South in a doubleheader at FSHS.
After struggling to drive in a few runners from third in a 4-2 win in Game One, the Firebird offense exploded in the second game, a resounding 12-2 victory in five innings.
"I just said, 'Swing, don't think about it,'" coach Lee Ice said. "It's like batting practice. Just swing, don't think."
When the Firebirds (2-0) were able to square up the ball, they made it look fairly routine.
After FSHS capitalized on a few Raider miscues to get out in front, 3-0 in the second inning of Game Two, Alex Hill pounded a double to bring home Elizabeth Hazlett to make it 4-0.
"(The early lead) helped everyone relax," said Hill, who was 5-for-5 on the day with a walk and five runs scored. "So people were just getting up there and teeing off. It was fun."
Samantha O'Brien — who tallied four hits, three RBIs and three runs scored — followed Hill's double by crushing an opposite-field home run to put FSHS on top, 6-0.
In the fifth, the Firebirds batted around — at one point stringing together five straight hits — to balloon the lead to 12-2, and earn the run-rule victory after freshman pitcher Meredith Morris worked a scoreless fifth inning.
"The offense is there," Ice said. "We just can't overthink it."
Ice attributed some of the hitting struggles in the first game to jitters, and whether that was the case or not, FSHS let a handful of good scoring opportunities slip away.
The Firebirds jumped ahead, 2-0, in the first after singles by Hill and O'Brien, before Whitney Rothwell blooped a double to center field to bring them around, but she was left standing on second.
FSHS tacked on a run in the third after Hill smacked a triple to left field, and O'Brien doubled her home, but struck out three straight times to strand O'Brien on third.
The Firebirds stranded two more in the fifth, but managed to tack on an insurance run in the sixth after a wild pitch allowed Remington Samuels to score.
Junior pitcher Megan Eagle worked out of a few jams from the pitcher's circle and allowed two runs on six hits in her five innings of work. Mary Ann Smith, who earned a win in the second game, tallied the save for FSHS in Game One.
Free State (2-0) will take on Olathe South on Tuesday before returning home to face Leavenworth on Thursday.
Copyright 2018 The Lawrence Journal-World. All rights reserved. This material may not be published, broadcast, rewritten or redistributed. We strive to uphold our values for every story published.