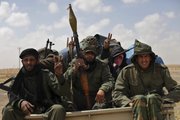 Washington — Two weeks after a dark-of-night barrage of mostly U.S. missiles and bombs opened the international air assault on Libya's Moammar Gadhafi, the American combat role is ending, the rag-tag rebels are reeling and the Pentagon is betting its European allies can finish the job.
Gadhafi is still standing, with a few uncertain signs that his inner circle could crack. The Obama administration is hoping that if Gadhafi's government doesn't implode soon, a relentless campaign of airstrikes on his tanks, air defenses and most trusted army units will at least weaken his ability to survive a renewed uprising by a disjointed opposition. The rebels initially rattled Gadhafi but in recent days have given up most of their gains.
The bottom line, according to Adm. Mike Mullen, chairman of the Joint Chiefs of Staff: "He's still killing his people."
So the mission remains incomplete, but the U.S. is following through on a pledge to shift the main combat burden to Britain, France and other NATO allies.
Starting today, no U.S. combat aircraft are to fly strike missions in Libya. NATO's on-scene commander can request American strikes in the days ahead, in which case they may have to be approved in Washington.
On Saturday, U.S. combat aircraft flew 24 strike missions in Libya, the Pentagon said.
A NATO airstrike intended to thwart Gadhafi's forces killed 13 rebel fighters in eastern Libya instead, the opposition said Saturday, but they described it as an "unfortunate accident" and stressed it did not diminish their support for the international air campaign.
Some in Congress, including Sen. John McCain, the ranking Republican on the Senate Armed Services Committee, have criticized the decision to withdraw U.S. combat aircraft from the regular cycle of NATO strikes.
Also withdrawing from the combat mission today will be the initial workhorses of the military campaign: U.S. Navy destroyers and submarines that launched Tomahawk cruise missiles from their positions in the Mediterranean Sea. No Tomahawks were fired Saturday, the Pentagon said.
The U.S. planes and naval vessels will be on standby in case NATO commanders decide their forces cannot handle the mission on their own. Combat air missions will continue to be flown by Britain, France and other NATO member countries.
A larger group of participating air forces will patrol over Libya to ensure that Gadhafi's air force stays grounded. U.S. planes will support them with refueling aircraft and electronic jammers.
The Navy began the operation March 19 with 11 ships in the Mediterranean. As of Friday, nine remained: the submarines USS Florida and USS Scranton; destroyers USS Stout and USS Barry; amphibious warships USS Kearsarge and USS Ponce; the command ship USS Mount Whitney; and two supply ships, USNS Robert E. Peary and USNS Kanawha.
The subs and the destroyers are armed with Tomahawks. Marine Harrier attack planes launch from aboard the Kearsarge, and the Mount Whitney had served as a floating command post for the American admiral who was the on-scene commander until NATO took control Thursday.
The Mount Whitney remains assigned to the mission but the new operational commander, Canadian Lt. Gen. Charles Bouchard, is working ashore at his NATO headquarters in Naples, Italy. The U.S. Navy is likely to peel more ships away from the mission in coming days, including some of those with Tomahawks.
Copyright 2018 The Associated Press. All rights reserved. This material may not be published, broadcast, rewritten or redistributed. We strive to uphold our values for every story published.