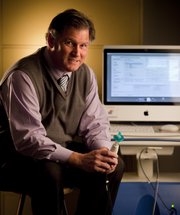 Knowledge developed here is helping premature babies feed themselves, parents detect autism earlier and researchers discover why older people's speech differs from young people's.
This is life at Kansas University's largest research center, the Schiefelbusch Institute for Life Span Studies.
The institute is concerned with just what it sounds like it might be, human development from birth to death, across the human life span.
That effort brings 150 scientists together from 20 academic disciplines, and they're all focused on research that's "translational," which is a fancy science word meaning it can be applied to societal needs, said John Colombo, the institute's director.
It's not the kind of research that gets talked about every day, said Susan Kemper, a KU distinguished professor of psychology and member of the institute.
"It's easy to sell curing cancer. And it might be easy to sell building better airplanes," she said. "I think it's unfortunate that so much of this public dialogue has the emphasis on jobs and job creation."
The basic science behind these innovations can improve people's lives, too, she said. And the institute also creates a lot of jobs in its own right with millions in grant funding supporting all kinds of full-time positions.
Here's what some of that looks like:
Helping premature babies get home
Steven Barlow, a professor of speech-language-hearing, helped developed the NTrainer System, a machine that teaches premature babies how to suck using a mechanized pacifier.
The pacifier mimics an optimal sucking pattern.
"That's usually the last and final hurdle that keeps the baby from going home," he said.
The devices also help babies who resist feeding orally — probably a natural response for babies used to having several tubes inserted in their nose and mouth, Barlow said.
And in the neonatal intensive care unit, a speedier trip home cannot just be better for the baby's development, it can save a lot of dollars. It can cost $4,000 per day to keep a baby in the NICU, Barlow said.
The thing about it, Barlow said, is it's taken 15 years of National Institutes of Health-funded research to get to this point. He started by working on cats and finding out how messages were relayed from the brain to the face.
Building on that basic science to get to the translational stuff takes time, he said, and money.
"We have to be advocates for the basic science, always," he said.
Grant writing today has taken a much more patient-focused turn, and it's much different submitting a grant today than it was 20 years ago, he said.
Detecting autism earlier
Christa Anderson is a research associate in the institute looking at ways to detect autism earlier.
One method she's found involves children's pupil sizes. It's important to look for physiological signs of development, because a child won't always be reliable when telling a researcher, for example, whether he recognizes a word.
But by using a machine that looks at pupil size and tracks eye movement on a computer screen, Anderson can tell what a child is looking at.
So when the computer says "tractor," she knows the child is actually looking at the tractor and not the dog, the cake or the fence that's also on the screen. And if the child doesn't recognize the word, the eye movement is much more scattered.
She said she's doing what she does because she enjoys helping children and parents, who often come in laden with more questions than answers, and are seeking help.
The hugs help, too.
"A lot of times, (science) isn't as rewarding," she said. "You don't see as big of a change as you do with kids."
Looking at 'elderspeak'
Kemper is looking at the way people communicate and how and why older people's speech differs from younger people's speech.
This Journal-World reporter took Kemper's test that measures how well people can do two things at once. It involves an old test called a "pursuit rotor." A small dot moves around in a circle on a computer screen. Using a trackball, I had to keep the mouse cursor on the dot. When it was on the dot, it turned green. When the cursor was off the dot, it turned red.
A program kept score. My first attempt I stayed on the dot about 69 percent of the time. The next time, though, she had me tell a story.
I told her about my last vacation, and tried to stay on the dot, too. My dot score went up — to 78 percent. But my story was awful.
I sounded, she said, a bit like an older adult (I should mention I'm 28 years old). I spoke in sentence fragments, I forgot the names of places and all kinds of other things.
But for older adults, the results are different. They've adapted better. They speak the same, but their dot score goes way down.
That's because the older you are, the greater the costs of losing your communication skills, Kemper said. Younger people can get away with stammering, losing their place in sentences and the like.
But older people can get accused of slipping into dementia or a whole host of other things if their communication skills aren't on target.
This kind of research — especially on normally functioning people — can help set a baseline for research later that could help detect the onset of diseases like Alzheimer's disease.
Colombo said he's proud of the diverse research of the institute. Though the institute brought in $28.7 million in 2010, it still depends on state funding, too, he said, in support of its 150 funded projects.
"It's a hard case to make because we're in tough times now, but over the long haul, it seems like a no-brainer," he said.
Copyright 2018 The Lawrence Journal-World. All rights reserved. This material may not be published, broadcast, rewritten or redistributed. We strive to uphold our values for every story published.