Last spring, the focus for Kansas University's football team was on replacing some of the school's all-time greats.
Photo Gallery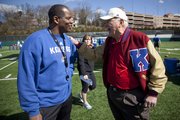 KU Football Spring Workouts
The Kansas football team worked out on Friday at the practice fields.
This year, the Jayhawks are determined to regain the respect those guys brought to the program, and their quest began Friday, when they kicked off spring drills for the second time under coach Turner Gill.
"We definitely want respect from our fans and from our opponents," junior wide receiver Kale Pick said. "You gotta come out and work hard and get some wins for next season. That's our ultimate goal. It's the offseason, and we're working hard to be a better team and improve for next season."
While working toward their goals officially began Friday, it really started weeks ago during the offseason, just days after their season-ending loss to Missouri. Several Jayhawks said the program's offseason conditioning was more rigorous this winter, and many of them pointed to last season's disappointment as the reason for the ramped-up drive.
"We've got a chip on our shoulder," said sophomore linebacker Huldon Tharp, who missed all of 2010 because of a foot injury. "We went 3-9, and that's not something any of us are OK with. Everybody on this team is going to work as hard as we can to get back to the Orange Bowl and compete for a Big 12 championship. That's everybody's goal, so that's what we're gonna work toward."
Tharp was one of a handful of players who received an extra dose of inspiration from Friday's first day of spring drills.
"(I've been waiting for this day) since the day I was injured, since I found out I wasn't gonna play last season," Tharp said. "Anybody that loves the game of football can't wait to get back on the field."
A freshman All-American in 2009, Tharp had carved out a bright future for himself as the next in a long line of ultra-talented linebackers to come through KU's program. But that's when the injury popped up.
It surfaced during spring ball in 2010. Rest and treatment was the prescription, but, on the first day of preseason camp, Tharp found out neither worked, and he injured the foot again. Now, a little less than a year after he first was injured, Tharp said he's close to 100 percent again.
"I'm still working through soreness," he said. "But, structurally, everything's fine. I'm just trying to get back into the swing of things."
Another player dying to do just that was Darius Willis, a sophomore linebacker who transferred from Buffalo after the 2009 season and sat out during 2010.
"I've been waiting on this day since the first day I stepped on campus," Willis said. "I can't wait to play with these dudes. I really can't wait. I'm ready to get going. Today felt good, just being out there with my teammates, knowing that we're all in it together. It starts today. Ain't no looking back now. What goes on from here on is work. We're preparing for the Big 12 Conference."
The Jayhawks have 14 spring practices remaining, including the April 30 spring game. They'll return today for practice No. 2 and then will take Sunday off before getting back after it on Monday.
Gill said he liked what he saw on Day 1.
"I loved their energy," he said. "We changed a little bit of the format. We've got everybody getting a lot more reps, and it was good to see our guys come out and perform in a good way, enthusiastic and running around.... ready to go."
QB job up for grabs
Six players lined up to compete for the starting quarterback position in 2010. That number was trimmed down to three Friday, but the KU coaching staff still find itself without a clear-cut answer to the question that plagued the team all of last season: Who is your starting quarterback?
"It's in question," Gill said. "I can't sit here and say who's gonna be ready to start. We're gonna evaluate each and every day, and at the end of spring practice we'll see where they're at, and if we need to make a decision, we'll make it. If not, we'll continue to evaluate as we go into the fall."
Competing for the job this fall are returning starters Quinn Mecham and Jordan Webb, along with red-shirt freshman Blake Jablonski. No matter how any of them perform this spring, all three likely will have to win the job again, when highly touted freshman Brock Berglund reports to camp this fall.
Gill said he was impressed with what he saw from his top returners.
"I think the one thing is, they've gotten stronger," he said of Mecham and Webb. "I think that's gonna help a lot of things, being able to stay healthy, being able to take the hits and then being able to make better decisions."
Pick happy at WR
He opened the 2010 season as the team's starting quarterback. This year, he's fighting for a spot in the wide-receiver rotation.
A lot has changed for KU junior Pick in the last year, but the Dodge City native seems content with his new position.
"I've actually started to like wide receiver quite a bit," Pick said. "I'm still as competitive, but I'm trying to get a wide-receiver spot. It's actually more competitive because it's a deeper position."
As for the decision to move to wide receiver, Pick said that came from two places.
"It was mutual," he said. "They wanted me at wide receiver, and I wanted to do what was best for the team."
Who stood out on Day 1?
No pads, no hitting, no real time to evaluate who did what and who came up short. Still, a handful of guys stood out for different reasons on the first day of spring drills.
"(Senior tight end) Tim Biere may be one guy that stood out," Gill said. "I loved the way he came out and did things. There were many other guys that did well."
Added Pick: "I'd say Chris Omigie, an outside receiver. He's improved quite a bit. And then I'd probably say Tyler Patmon. He's improved a lot. He's got a lot of confidence right now, and he had a great offseason. He'll be a good player for us this year."
Coach Fam back in the fold
There were several familiar faces on the sidelines of the KU practice fields, but none bigger or brighter than former KU coach and player Don Fambrough.
Fambrough, one of the most loyal and devout KU supporters, did not get the opportunity to give his annual speech to the team prior to last year's Border War showdown with Missouri. But there he was Friday, watching his beloved Jayhawks while sporting his classic KU letter jacket. During warm-ups, Gill and Fambrough had a special moment as the two bantered about football and shared a laugh.
Copyright 2018 The Lawrence Journal-World. All rights reserved. This material may not be published, broadcast, rewritten or redistributed. We strive to uphold our values for every story published.