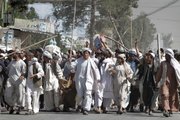 Kabul — Fearing for their lives, the U.N. workers dashed into a dark bunker hoping to escape the mob of Afghan protesters angry over the burning of a Quran by a Florida church.
Hope wasn't enough for three of them. They were hunted down and brutally slain — their bodies found later in three different parts of the compound in northern Afghanistan.
"They were killed when they were running out of the bunker," said Staffan de Mistura, the top U.N. envoy in Afghanistan, who recounted their harrowing deaths to reporters on Saturday evening. "One was pulled out alive because he pretended to be a Muslim."
De Mistura spoke in a somber tone as he described how three U.N. staff members and four Nepalese guards were killed Friday when the protesters stormed their compound in the normally peaceful city of Mazar-i-Sharif. He placed direct blame on those who burned a copy of the Muslim holy book in Gainesville, Fla., last month, stoking anti-foreign sentiment that already was on the rise after nearly a decade of war in Afghanistan.
"The demonstration was meant to protest against the insane and totally despicable gesture by one person who burned the holy Quran," he said.
He also said the U.N. building would not have been attacked if there had been an adequate cordon of Afghan police separating the demonstrators and the compound.
A formal inquiry is under way, but de Mistura said initial reports indicate that seven to 15 insurgents infiltrated a group of as many as 3,000 demonstrators who overran the U.N. compound, which was protected by Afghan policemen and six U.N.-hired Nepalese guards. The crowd overpowered the guards — who are instructed not to shoot into crowds of civilians, even if they are threatening — and the police were not able to stop them, he said.
Four of the Nepalese guards were killed; some were shot in the yard of the compound. Three Afghan U.N. workers survived by melding into the surging crowd, he said. Four Afghan protesters also were killed in the riot.
Protesters had set fire to cars and an electric generator in the U.N. compound so the bunker was dark. It was the only safe place for the four foreign U.N. workers on the compound, including the Russian chief of mission. But the door of the bunker was made to withstand a bomb attack, not the sheer force of a crowd of people trying to get inside.
When the killers forced themselves inside they saw Pavel Ershov, the mission chief who is fluent in Dari, one of two languages spoken in Afghanistan. They beat him, but stopped after he convinced them, in Dari, that he was a Muslim, de Mistura said.
"He spoke the language and tried to draw their attention on himself," the envoy said. "For a moment, he hoped that they would think there was nobody else there."
But using a light, the attackers found the three other foreigners, then pulled them out and killed them one after the other. Two died of bullet wounds. The third was killed with a knife to the throat.
They were identified by officials in their home countries as: Joakim Dungel, a 33-year-old Swede who worked on human rights; Lt. Col. Siri Skare, a 53-year-old female pilot from Norway who was an adviser; and Filaret Motco, a 43-year-old Romanian who worked in the political section of the U.N.
De Mistura said he was concerned that the deaths of the foreigners would give people, especially in the West, a reason to argue against continued involvement in the nearly decade-long Afghan war. He said the U.N. would not pull out of Afghanistan, but that he was temporarily redeploying 11 U.N. workers from Mazar-i-Sharif to Kabul because they can no longer work in the office, which was destroyed and looted.
More riots Saturday
Afghans rioted for a second day Saturday to protest the burning of a Quran in Florida, killing nine people in Kandahar and injuring more than 80 in a wave of violence that underscored rising anti-foreign sentiment after nearly a decade of war.
The protests come at a critical juncture as the U.S.-led coalition gears up for an insurgent spring offensive and a summer withdrawal of some troops, and with Afghanistan's mercurial president increasingly questioning international motives and NATO's military strategy.
Two suicide attackers disguised as women blew themselves up and a third was gunned down Saturday when they used force to try to enter a NATO base on the outskirts of Kabul, NATO and Afghan police said.
Karzai expressed regret for the 20 protest deaths, but he also further stoked possible anti-foreign sentiment by again demanding that the United States and United Nations bring to justice the pastor of the Dove Outreach Center in Gainesville, Florida, where the Quran was burned March 20. Many Afghans did not know about the Quran-burning until Karzai condemned it four days after it happened.
U.S. President Barack Obama extended his condolences to the families of those killed by the protesters and said desecration of the Quran "is an act of extreme intolerance and bigotry." But he said that does not justify attacking and killing innocent people, calling it "outrageous and an affront to human decency and dignity."
Copyright 2018 The Associated Press. All rights reserved. This material may not be published, broadcast, rewritten or redistributed. We strive to uphold our values for every story published.