Photo Gallery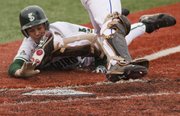 Free State baseball vs. Leavenworth
Four games into Free State High's baseball season, the conditions haven't felt much like spring.
But that also means the Firebirds have grown somewhat accustomed to playing in the near-frigid temperatures, and Cody Kukuk and Colin Toalson showed as much Thursday afternoon.
Kukuk and Toalson combined for a sharp performance from the mound as FSHS edged Leavenworth, 4-2, on a chilly evening at FSHS.
"I don't know that there's necessarily a rhyme or reason to it," coach Mike Hill said of dealing with the elements.
"I don't think it took (Kukuk) or Toalson a certain amount of time to go. They were both hot right out of the chute."
Kukuk (2-0) worked the first four innings for FSHS (4-0) and allowed one unearned run while striking out six. Toalson worked the final three innings to notch the save, allowing one run, and also fanned six.
"On the mound, it's a little easier (to stay warm)," said Toalson, who started the game at shortstop, "but when I was in the field, I was blowing in my hand every five seconds. It was freezing."
Kukuk agreed, saying he had to move around a bit just to keep warm when he was on base. And he was on base three times — the second after he cranked an RBI double in the third inning that plated Preston Schenck and tied the game at 1. First baseman Montana Samuels then brought Kukuk around with a sharp single to right field.
Toalson ripped an RBI single in the fourth to extend the Firebird lead to 3-1, and Samuels trotted home for Free State's fourth run after a fifth-inning balk by Pioneer starter Judson Cole.
Kukuk relented a second-inning run after a few Firebird miscues, but settled in and mowed through the Pioneers from there on out. Toalson relieved him in the fifth and picked up where Kukuk left off.
Toalson struck out five of the seven batters he faced in the fifth and sixth innings, four on sharp curveballs that had the Pioneers' knees buckling.
"He comes in, and he dials it up," Hill said of Toalson. "He's got command of three pitches, and he'll go right at people with three pitches and keep them off balance. I thought he was spectacular."
After an error to begin the seventh, the Pioneers (4-1) threatened to rally with runners on first and second and only one out.
Colin Cribb smacked a hard single to left field to score the lead runner and cut the lead to 4-2 as Tim Lewis fired to the cutoff man, third baseman Dane McCullough.
Watching from behind home plate as he backed up the play, Toalson noticed something that left him at a loss.

Cole, who had advanced from first on the single, had taken a hard turn as he rounded second base. Alertly, McCullough turned and teamed with shortstop Dylan Perry to finish off the rundown and record the second out of the inning.
While Cole scrambled around in no-man's land, Cribb attempted to stretch his single into a double.
Fortunately for the Firebirds, center fielder Preston Schenck was crashing the play — allowing McCullough to flip him the ball to finish off a rare 7-5-6-5-8, game-ending, double play.
"I've never seen anything like that," Kukuk said.
FSHS fans and opponents will undoubtedly see plenty more of the Kukuk/Toalson combo on the mound this year.
"We're not in our rhythm yet in terms of our rotation," Hill said. "It's early. You have to protect people's arms. We're watching pitch counts closely. You don't win championships in March."
Copyright 2018 The Lawrence Journal-World. All rights reserved. This material may not be published, broadcast, rewritten or redistributed. We strive to uphold our values for every story published.