New York — "Bonnie and Clyde" wasn't a movie that director Arthur Penn wanted to make, but when he finally agreed to it, he made sure that the violence provoked by the lawbreaking couple from the 1930s — and that led to the protagonists' bullet-riddled demise — wasn't disguised.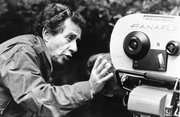 "I thought that if were going to show this, we should SHOW it," Penn recalled. "We should show what it looks like when somebody gets shot."
His cinematic art, he noted, only reflected the times: TV coverage of Vietnam "was every bit, perhaps even more, bloody than what we were showing on film."
The director died Tuesday night, a day after his 88th birthday, leaving behind films — most notably "Bonnie and Clyde" and "Little Big Man" — that refashioned movie and American history, made and broke myths and sealed a generation's affinity for outsiders.
Daughter Molly Penn said her father died at his home in Manhattan of congestive heart failure. A memorial service will be held by year's end, longtime friend and business manager Evan Bell said Wednesday.
Penn — younger brother of the photographer Irving Penn — first made his name on Broadway as director of the Tony Award-winning plays "The Miracle Worker" and "All the Way Home," then rose as a film director in the 1960s, his work inspired by the decade's political and social upheaval.
"Bonnie and Clyde," with its mix of humor and mayhem, encouraged moviegoers to sympathize with the marauding robbers, while "Little Big Man" told the tale of the conquest of the West with the Indians as the good guys.
"A society would be wise to pay attention to the people who do not belong if it wants to find out ... where it's failing," Penn said.
Penn's other films included his adaptation of "The Miracle Worker," featuring an Oscar-winning performance by Anne Bancroft; "The Missouri Breaks," an outlaw tale starring Marlon Brando and Jack Nicholson; "Night Moves," a Los Angeles thriller featuring Gene Hackman; and "Alice's Restaurant," based on the wry Arlo Guthrie song about his being turned down for the draft because he had once been fined for littering.
"I loved working with Arthur," said Hackman, who also worked with Penn on "Bonnie and Clyde" and the 1985 thriller "Target."
"He had his own clear vision, but he was really excited to see what you could bring to a scene, every take," Hackman said in a statement. "You could feel him over there, just by the camera, pulling for you. However rough and tough his films are, you can always sense his humanity in them."
Penn was no filmgoer as a child; books and baseball mattered more. Penn was frightened by a horror picture when he was 5 and said he did not see another movie until his teens, when Orson Welles' "Citizen Kane" "staggered" him.
He was known for allowing actors to improvise — and getting a wide range of expression from them in return. He believed words are to the theater as action is to film: "A look, a simple look, will do it."
Copyright 2018 The Associated Press. All rights reserved. This material may not be published, broadcast, rewritten or redistributed. We strive to uphold our values for every story published.