Zurich — Tears and jeers accompanied the demolition of the St. Ann Catholic Church here, drawing people in for mementoes and photographs of the painful task unfolding before the community's eyes.
Officially, only the stained glass windows survived the destruction, removed and taken to a new church under construction in Springfield, Mo. Remnants of the rest of the church, such as the pews, were gathered up by local residents.
Most of the decorative limestone that adorned parts of the brick and block building were gathered by a Lucas stone mason.
Many people were saddened by its demolition. Others were outraged.
"Mom was a Catholic," Chuck Eichman said of his mother, Thelma. "She was about fit to be tied. A lot of people were upset because the church was being torn down."
On the way home after a short trip to Hays, rancher Darrell Sutor and his wife, Joy, stopped by to snap a picture of the demolition.
"Ain't this a shame?" Sutor asked as he watched Tom Bigge lift huge chunks of concrete into a waiting dump truck.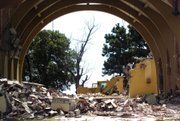 Turning to eBay
Services haven't taken place in the church for several years now. It closed in 2003, when the congregation transferred to Sacred Heart Catholic Church in Plainville.
Since then, there have been two aborted efforts to sell the building.
Weather ultimately took its toll and ended a final attempt to keep the building standing.
Instead, the Salina Diocese, which administers the church, hired Bigge, Stockton, to bring down the building. Bigge abhorred the idea, but knew if he didn't do it, someone else would. In fact, there were two other bidders on the project.
The anger comes in Roger Hrabe's efforts to sell the building.
He first sought to sell the building by listing it on eBay, the Web's auction house, and there were several people interested from across the country.
But a couple weeks later, Hrabe received a call from the diocese, telling him the sale didn't follow the rules of the church and it needed to be removed from the auction site.
"I had at least two that were very serious," Hrabe said of potential buyers, one from Colorado and the other from Arizona.
Mold takes its toll
Later, Hrabe again was asked if he could try selling the building, at which time he contacted the people who had expressed an interest earlier. The prospective buyer from Arizona still was interested and willing to pay $30,000 for the building. That was half the initial offer.
"Next thing I know, they're planning to tear it down," Hrabe said. "The explanation to me was that mold had developed."
"It's like presiding at a funeral," said Palco resident Terry Kortan, who was driving one of two dump trucks hauling out massive pieces of concrete and dumping them in a washed out area nearby.
St. Ann has a special place for Kortan.
"I got my first communion here," he said. "I was confirmed here. I was an altar boy here."
He's among the group of people angry about the demolition of the church, angry it couldn't be saved.
"I defy anyone to find a crack in that brickwork," he said. "It was perfect."
Kortan understands mold had developed inside the church, but said that's only because the roof wasn't fixed after a storm damaged it.
"When they shut the utilities off, everything went to hell," he said.
"There's been a lot of people come by here," Bigge said, noting many would recount stories about the church, detailing their parents were married in the church, for example.
But his task was to tear it all down and bury it under at least 2 feet of soil.
"It is a shame," Bigge said of the church being torn down. "But they couldn't keep it up."
If they can't find priests to minister to parishes in the western half of the state, he said, "that's going to be the straw that broke the camel's back."
Even though Eichman now lives in WaKeeney and has joined another church, he was among those seeking memories from St. Ann.
"I went over and got me a handful of bricks," he said. "I put them on the porch. Mom wanted some."
Copyright 2018 The Lawrence Journal-World. All rights reserved. This material may not be published, broadcast, rewritten or redistributed. We strive to uphold our values for every story published.