Gary and Marilyn Anderson sat on the couch at their West Lawrence home Friday afternoon.
Just 24 hours before they had finally received the news they were dreading for nearly seven years.
Their daughter, Lesley Smith, had been missing since she left their home one wintry night in 2004. On Thursday, police confirmed they had found Smith's body earlier this week inside the family's minivan about 175 feet from a boat ramp at Clinton Lake.
"We really didn't think it was going to hit us this hard, but I think what it did is it took the hope away," said Gary Anderson, Smith's stepfather.
As coroner's investigators identified the body using dental records and ruled no foul play was involved, it brought to close a nearly seven-year mystery.
It was a blow to the Andersons because they held out hope that Smith — known as "Les" to her parents and friends — would still walk through the door one day. But at least now she has been found.
"Our curiosity is no longer there because now we know where she is," Marilyn Anderson said. "And we are able to put her to a resting place that is worthy of her. Her life was so worthy for us and everyone who knew her."
Smith was 38 years old.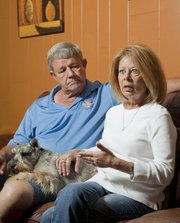 Her life
A few years before her daughter disappeared, Marilyn Anderson recalls getting phone calls — there were probably several, she says — from people who met her daughter, who worked as a manager at a restaurant near the Country Club Plaza in Kansas City, Mo.
Once it was actress and dancer Debbie Allen and another time it was baseball Hall of Famer George Brett. They'd met Lesley and had so much fun with her that they wanted to compliment her mother for raising her.
"She had a way of making people laugh and feel comfortable," Marilyn Anderson said.
Several of Lesley's classmates from Ottawa High School kept in touch with the family over the years and have checked in with the Andersons.
Lesley grew up in Ottawa and graduated from high school there in 1984. She attended Washburn University for a year before moving to Dallas for nine years. Then she returned to the Lawrence area, working in restaurants and lounges and other jobs.
Her mother said Smith often struggled to find the perfect profession. She had decided she wanted to go into nursing, but the decision had created anxiety for her.
She talked with a therapist at Bert Nash Community Mental Health Center. She had also taken antidepressants. Marilyn Anderson said that often comes with a stigma.
"Les didn't have any mental issues. Hers were all anxiety-ridden," she said.
The Andersons last saw Smith watching TV the night of Jan. 26, 2004, at their West Lawrence home. Marilyn Anderson said she found a note from Smith the next morning that alluded to medication and said, "I love you so much."
But the Andersons say there are so many more factors to consider with her disappearance.
"The weather was horrendous that night, absolutely horrendous," Gary Anderson said.
Smith had once worked at the Clinton Lake Marina, and the Andersons said she may have driven out to Clinton State Park seeking some solace. Exactly how the minivan ended up in the lake will likely remain unknown, they said.
Mystery and closure
The Andersons reported Smith missing to Lawrence police the next morning, along with the family's 1990 brown Plymouth Voyager.
Neither the van nor Smith was seen again until Tuesday, when Kansas Department of Wildlife and Parks officials were using a new sonar device in Clinton Lake and discovered an object 19 feet under water. A Douglas County Sheriff's underwater search team found a vehicle and discovered the body.
The coroner's office Thursday morning officially identified Lesley Smith as the body inside the vehicle.
The Andersons said it was frustrating because law enforcement agencies had performed extensive searches after her disappearance, including using a sonar device in Clinton Lake. But they are thankful that more advanced technology helped find their daughter.
The couple also said John Hanson, the case's lead detective, continued to pursue a case.
"(Hanson) has been a godsend for us, and we'll never be able to thank him enough for standing by us," Marilyn said. "His concerns went as deep as ours did."
The coroner's report has ruled drowning as the cause of death. Police said they would not comment about how the vehicle could have ended up in the lake.
The Andersons said they believe it was an accident, but are also trying not to think about that question any more.
"It will get better because now we don't have that question: Where is she?" Marilyn Anderson said. "That's the thing that drives you insane."
Even though the search was such a big part of their lives the last six years, the Andersons continued to try to carry on with their lives the best they could. Gary Anderson is a supervisor for R.D. Johnson Construction, and Marilyn Anderson is a loan administrator at Lawrence Bank.
"Don't give up hope. Hang in there, but live your life every day," Marilyn Anderson said as a message to families of missing persons. "Don't seclude yourself from your normal routine. You've got to have the support of people around you."
They are planning a private service for their daughter and a more public ceremony later.
"We have our answer," Marilyn Anderson said. "We have our daughter back."
Copyright 2018 The Lawrence Journal-World. All rights reserved. This material may not be published, broadcast, rewritten or redistributed. We strive to uphold our values for every story published.