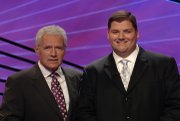 A Kansas University doctoral student took home $1,000 after a third-place "Jeopardy!" finish on Thursday.
DJ Schepker, who lives in Lenexa, correctly answered questions about a mnemonic to remember the planets, Jim Beam and a famous poem devoted to Paul Revere's ride, but that only netted him $6,300 at the end of the show.
The other two contestants earned $19,000 and $24,001. For placing in third, Schepker earned a $1,000 prize from the show.
Schepker filmed the episode on July 27.
Copyright 2018 The Lawrence Journal-World. All rights reserved. This material may not be published, broadcast, rewritten or redistributed. We strive to uphold our values for every story published.