Early in her high school career, Free State senior Kelly Phipps excelled as a singles player.
Photo Gallery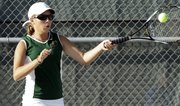 Free State tennis quad
Despite a brief foray into doubles tennis during her sophomore year, she was back playing on her own last season. And during the summer, too, where she almost exclusively played singles.
But with freshman Alexis Czapinski new to the team, Phipps knew what had to be done.
"Alexis is amazing," Phipps said. "So I wanted to play with her because I think we're a really good pair, and us being a pair will get us further at state."
It appears as if Phipps made the right decision, as she and Czapinski won all three of their matches in Wednesday's tennis quad in convincing fashion. The pair beat opponents from Shawnee Mission Northwest, Shawnee Mission North, and Blue Valley Southwest, 8-2, 8-0, and 8-2.
The other Firebird duo, Caitlyn Tilden and Libby Hillis, was equally impressive, as it swept its matches 8-4, 8-2, and 8-0. The two pairs are a combined 30-2 on the season.
In singles, junior Jackie Garcia lost her first two matches, but finished strong with an 8-4 victory against her Southwest opponent. She said an early lead in her third match gave her a much-needed boost.
"I think when you're more confident, you take more chances," Garcia said.
Sophomore Emily Sadosky dropped all three of her matches, 8-1, 8-1 and 8-0.
Despite the mixed results from his singles players, Free State coach Oather Strawderman said the main importance of Wednesday's quad was to gauge other Sunflower League schools like SM North and SM Northwest in preparation for next week's tournament.
"I think we've got a good shot in the Sunflower League, after looking at today and seeing those other schools," Strawderman said.
Strawderman also complimented the heady play of his six varsity athletes.
"All six of our players are really smart about the game. They're really good about strategizing and knowing how to play the game and how to beat the other team around the court," he said.
It especially showed in the doubles matches, in which the Firebirds often made difficult shots look effortless.
"A lot of times in tennis, it's not all about having good hits, but making sure you place the ball well, move your opponents around the court to get your self a nice put-away shot," Strawderman said.
Many of the qualities that make the Firebird pairs so successful are fairly evident. Czapinski is nimble around the net and sound at returning serve. Phipps features a powerful serve and a crushing right-handed swing.
One attribute, though, is not so obvious.
The two freshmen, Czapinski and Hillis, are left-handed – allowing them to return serves from the left side of the court with their forehand – which makes them ideal for a doubles match.
"With a big, power return, it lets them get into the net a lot quicker," Strawderman said. "And that's what we're always shooting for, to get to the net as quickly as possible, because then that's a very dominant position to be in with two up at the net."
"I feel like it's a really big strength, because a lot of teams might not even recognize that she is a lefty," Phipps said. "And when they do, they're already at a disadvantage."
Of course, the intangibles that stem from a well matched pair don't hurt.
"It just kind of works out well because when I'm having a bad day, Alexis is always there bringing us up, and when she's getting down, I feel like I do the same for her," Phipps said.
Copyright 2018 The Lawrence Journal-World. All rights reserved. This material may not be published, broadcast, rewritten or redistributed. We strive to uphold our values for every story published.