An underwater search team Tuesday afternoon recovered a woman's body that was inside a vehicle recovered from Clinton Lake, sheriff's and coroner's officials said Wednesday.
"Positive identification is pending at this point. No foul play is suspected," said Sgt. Steve Lewis, a Douglas County Sheriff's spokesman.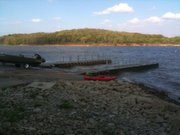 Citing the investigation, he would not release further information about the body or the type of vehicle. Sharon Mandel, a chief medical investigator for the Douglas County Coroner's Office, confirmed it was a woman's body.
Although authorities said they were waiting on positive identification before commenting further, Gary Anderson, whose stepdaughter Lesley Smith went missing from the family's Lawrence home in 2004, said Wednesday that police have been in touch with the family the last two days.
"I'd just as soon not comment on anything right now," Anderson said.
Lewis said the dive team recovered the vehicle after Kansas Wildlife and Parks officials had surveyed areas of the lake near boat ramps with a new device and found two vehicles in the water.
Lewis said vehicles in the lake are typically stolen. The team had recovered one empty vehicle earlier in another part of the lake before pulling the vehicle with the body inside it from an area more than 175 feet offshore from Boat Ramp No. 1, which is inside Clinton State Park, he said.
The vehicle was found in 19 feet of water. The coroner's office will work to identify the body and a cause of death, Lewis said.
He said the vehicle did not appear to have damage.
"It was just a vehicle, in complete shape, with a body inside of it," Lewis said.
Mandel said coroner's investigators had not yet identified the woman.
"We're just waiting on the services of a forensic dentist," she said.
Gary and Marilyn Anderson had reported Smith missing from their west Lawrence home after she disappeared along with the family's minivan the night of Jan. 26, 2004. She was 38 at the time.
According to news reports, the Andersons last saw Smith watching TV that night at their home. Marilyn Anderson said she found a note from Smith that morning that alluded to medication and said, "I love you so much."
Smith had taken antidepressants and had been seeing a therapist at Bert Nash Community Mental Health Center. The Andersons have said they didn't believe she left on her own because she left many of her personal belongings.
Sgt. Matt Sarna, a Lawrence police spokesman, said he could not confirm officers had been in contact with the Andersons about the Smith case after the body was found at Clinton Lake. He also said the department would not comment until the body was identified.
Copyright 2018 The Lawrence Journal-World. All rights reserved. This material may not be published, broadcast, rewritten or redistributed. We strive to uphold our values for every story published.