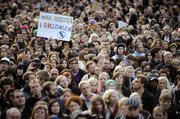 Stockholm — A far-right group's election breakthrough has shattered Sweden's reputation as a bastion of tolerance after years of being seemingly inoculated against the backlash on immigration seen elsewhere in Europe.
Sunday's election showed that the country's welcome to refugees is not universally accepted: Nearly 6 percent of the population voted for a nationalist group that accuses immigrants — especially Muslims — of eroding Sweden's national identity and its cherished welfare state.
It's a bitter pill for a nation that frowned upon Denmark's vitriol toward Muslim immigrants, Swiss attempts to ban minarets and France's crackdown on Gypsy camps.
"The banner of tolerance has been hauled down and the forces of darkness have finally taken the Swedish democracy hostage, too," the Expressen tabloid wrote in a post-election editorial.
"It's Monday morning and time for Swedes to get a new self-image," read a bold front-page headline in Svenska Dagbladet.
Prime Minister Fredrik Reinfeldt's coalition won the election but lost its majority in the 349-seat legislature, weakening its ability to push through crucial legislation.
The Sweden Democrats, a small nationalist party, entered Parliament for the first time, winning 20 seats to hold the balance of power between the 172 seats captured by the four-party center-right bloc and the 154 seats won by the three-party leftist opposition, according to preliminary returns.
Hardening attitudes toward immigrants have helped far-right radicals gain influence elsewhere in western Europe.
The Netherlands, which built a reputation of open-minded policies, took a hard right turn against immigration in 2002, when populist politician Pim Fortuyn broke all taboos against speaking out against multiculturalism and said Holland was "full." Anti-immigrant parties have been significant factors in every election since then.
In June, anti-Islam politician Geert Wilders, who has denounced the Quran as a "fascist book" and campaigned to halt more Muslim immigration, more than doubled his seats in Parliament and is the kingmaker of the emerging right-wing coalition. Wilders goes on trial next month for "hate speech" for some of his most outspoken anti-immigrant remarks.
The U.S. also has seen a backlash, underscored by the uproar over Arizona's attempts to get tough on illegal immigration and plans to build an Islamic center near ground zero in New York.
Sweden became barren ground for such groups after the sudden rise and fall of a right-wing populist party in the early 1990s. Since then, Swedes have dealt with immigration issues delicately, at times even apologetically.
When a mainstream political party eight years ago suggested basic Swedish-language skills should be mandatory for citizenship — an uncontroversial requirement in many other countries — it was accused of catering to xenophobes.
Swedish leaders also lashed out at Scandinavian neighbor Denmark for sharply tightening immigration in 2002, and reacted with horror to the anti-Muslim statements by leaders of the nationalist Danish People's Party.
That helped cement Sweden's reputation as being a haven for immigrants, and was one the reasons the nation of 9.4 million attracted more Iraqi refugees following the U.S. toppling of Saddam Hussein than any other country in the West.
To many, that era is over with the election of the Sweden Democrats to Parliament.
Led by Jimmie Akesson, the Sweden Democrats won 20 parliamentary seats and the balance of power between the center-right government and the left-wing opposition. Both main blocs refuse to work with Akesson, 31, and are likely to seek a deal across the political divide just to keep him out."They will be forced to change their policies, above all on integration and immigration if they don't want to keep losing votes to us," a defiant Akesson told Swedish Radio.
Akesson denies allegations of racism, saying his party has nothing against immigrants as individuals. It's their large number that's a burden on the Swedish welfare state, he says.
Copyright 2017 The Associated Press. All rights reserved. This material may not be published, broadcast, rewritten or redistributed. We strive to uphold our values for every story published.