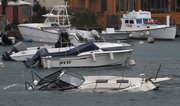 Hamilton, Bermuda — Fierce waves pounded Bermuda's shores and strained yacht moorings late Sunday as winds tore at trees and signs while a weakened Hurricane Igor passed just west of the wealthy British enclave.
Bermudians stayed battened down in their homes in a pelting rain to wait out Igor, which was barely a Category 1 hurricane. Its sustained winds were clocked at 75 mph as Igor neared the island, although a gust of 93 mph was reported, the U.S. National Hurricane Center in Miami said.
The wind whipsawed trees and power poles, knocking out electricity in many parts of the island. But there were no early reports of major damage.
"We're certainly getting our money's worth in drama," lawyer James Dodi said while standing outside a hotel in downtown Hamilton watching Igor's winds whip through palm trees and howl around buildings.
Dodi, 43, a native of Toronto who moved from Canada six years ago, left his Hamilton home and took refuge at the hotel, where he hoped the power would hold out through the storm.
Some storm-seasoned islanders ventured outside during the day to gawk as the hurricane force winds that hit by midday drove 15-foot surf onto shore or to triple-tie the moorings of their boats even as the government warned people to stay indoors.
Flooding was reported in low-lying areas, while streets in downtown Hamilton, the capital, were covered in several inches of water and littered with tree branches and other debris.
Igor's eye passed about 40 miles west of Bermuda before midnight, the U.S. hurricane center said. But even the near-miss was a problem, since hurricane-force winds extended up to 90 miles from the eye.
The storm was expected to veer northeast — away from the United States — after passing Bermuda. But forecasters said it would continue causing high surf and strong rip currents along the U.S. eastern seaboard.
Most tourists hopped on flights home before the airport closed Saturday afternoon, but Elaine and Brian LaFleur of New Bedford, Mass., said they actually changed the date of their flight so they would make it to Bermuda in advance of Igor. They wanted a new experience for their 28th trip to the island.
"We've done everything else on this island, but we've never experienced a hurricane," said Elaine LaFleur, 62.
The couple's original itinerary had them arriving Sunday but they flew in Friday.
Brian LaFleur, 66, said the couple was staying busy indoors playing games on their iPad. He had hoped to watch Sunday football but the cable television at their hotel in downtown Hamilton lost its signal.
Bermuda's power utility reported that roughly 19,500 customers were without electricity by Sunday evening on the British territory of 68,000 inhabitants.
Igor lost strength and was downgraded from a Category 2 hurricane before dawn Sunday, raising optimism that Bermuda would be spared major damage.
"We prayed that the storm would be downgraded, and it looks like our prayers have been answered," said Fred Swan, a 52-year-old teacher.
As the hurricane bore down, most islanders hunkered down in their homes and listened to the howling winds and cracking thunder outside.
School principal Marion Dyer, 47, said she holed up with her 8-year-old daughter and two others after losing power around dawn, when Igor's outer bands began severely whipping Bermuda.
"Now and again we get bursts of wild wind which sends the rain in all directions," Dyer wrote in an e-mail to an AP reporter. "We have heard several rolls of thunder which are becoming more frequent."
Copyright 2018 The Associated Press. All rights reserved. This material may not be published, broadcast, rewritten or redistributed. We strive to uphold our values for every story published.