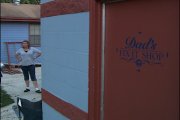 Theresa Tyree, Eudora, got a phone call no one ever wants to receive. On Friday afternoon, while at work, she learned her husband of more than 31 years was involved in an accident at a construction site.
"His boss, John Lindsey, called me and said there was an accident, there was a fall," she said. "He didn't know how bad it was at first."
A short time later, she would learn two men were injured in that accident and her husband was killed.
James Tyree, 52, Eudora, died when scaffolding that he was working on collapsed. The accident happened at around 2 p.m. Friday at a middle school being built in Overland Park, in the Blue Valley school district.
Theresa Tyree said that her husband died doing what he loved.
"He could do anything; I don't have my handyman anymore," she said.
Sunday afternoon, Theresa pointed out pictures in a large collage, made in memory of her husband. At the center of the board was a piece of paper with her husband's name on it, surrounded by pencil-drawn hearts. She said she made it for him when they were in school together.
"Over the years, I think I loved him more today than the day I married him," she said.
Theresa said she enjoyed boating on Clinton Lake with her husband and driving to Lawrence twice a week for bowling leagues. James Tyree also enjoyed spending time in the oversized garage he built himself. Inside of the structure were his boat, a truck, countless tools, and his grandson's toy car.
"He would park his car in there with Papa's," Theresa said.
James Tyree worked as a brick mason and foreman for Lindsey Masonry for more than 25 years. His father, Jack Tyree, said Sunday that he went to Overland Park to visit the place where his son died. He called his son's death simply a tragic accident.
Funeral services will be at 10:30 a.m. Wednesday at Warren-McElwain Mortuary's Eudora Chapel. Burial will follow at Shawnee Mission Gardens. Memorial contributions may be made in his name to the Diabetes Association, sent in care of the mortuary.
Copyright 2018 The Lawrence Journal-World. All rights reserved. This material may not be published, broadcast, rewritten or redistributed. We strive to uphold our values for every story published.