Kortney Clifton scored both goals as Kansas University's soccer team concluded its nonconference schedule with a 2-0 victory over Missouri State on Sunday at the Jayhawk Soccer Complex.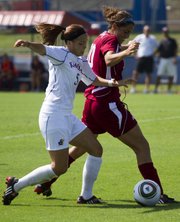 Clifton scored in each period for KU (4-4). She took four shots Sunday, three on goal. The goals were her first of the season, and she's the first Jayhawk to have a multiple-goal match this season.
"I was excited for Kortney. Kortney played really well today, and I'm not just saying that because she scored two goals," KU coach Mark Francis said. "She made a lot of things happen, and I think defensively, too, she battled really hard."
Whitney Berry assisted on Clifton's second goal, giving her a team-high three assists this season.
The Jayhawks had a season-high 12 corner kicks against Missouri State (4-4-1) and were one shy of matching the season-high in shots. Berry had a match-high five shots, with two on goal. Jordyn Perdue finished with three shots, two on target, and nearly headed in a goal in the second half.
"I thought we defended well, I thought we competed well, I thought we did a good job of maintaining possession," Francis said. "We did a good job of being patient with the ball and not forcing it. The kids did a good job of executing the game plan today."
Kat Liebetrau collected four saves while registering the shutout. It was the third shutout for the keeper this season and raised her save percentage to .836 and her Big 12-leading save total to 51.
Kansas will travel Friday to Missouri and Saturday to Iowa State.
Copyright 2018 The Lawrence Journal-World. All rights reserved. This material may not be published, broadcast, rewritten or redistributed. We strive to uphold our values for every story published.