-->
Photo Gallery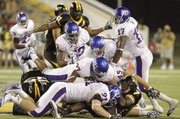 KU vs. Southern Miss
KU vs. Southern Mississippi
Hattiesburg, Miss. — Most folks in the South are known for their Southern hospitality.
But there was nothing kind about the way with which Southern Miss welcomed the Kansas University football team to Carlisle-Faulkner Field on Friday night during the Golden Eagles' 31-16 victory.
If anything, it was the Jayhawks who were too kind in allowing Southern Miss to build an early two-touchdown lead that was never seriously threatened.
"We got a lot of young guys that are playing," senior cornerback Chris Harris said. "With experience, it'll get better, and (they'll) understand that you gotta come out with energy every game because the other team wants it."
For much of the first half, the Jayhawks looked like a young team playing its first road game of the season under a first-year head coach.
Offensive plays were conservative and sometimes slow getting to the huddle, and defensive players looked sheepish and out of sync.
"Maybe that's a reason," KU coach Turner Gill said. "But, again, execution is the bottom line. And we gotta do a better job. You can say they're young or inexperienced, but we gotta go out and play, and we gotta execute."
KU fell behind, 7-0, on the Eagles' first drive. While the Jayhawks' offense struggled to move the ball consistently — largely because a porous offensive line provided little protection for quarterback Jordan Webb — the defense did its best to keep KU in the game.
An interception by KU safety Phillip Strozier on a woefully underthrown ball from USM wide receiver Ryan Balentine saved what looked to be a sure touchdown. The trick play was the second of the first quarter for the Eagles, who scored their opening TD on a halfback pass from V.J. Floyd.
KU also avoided disaster when a pass from Webb was tipped at the line of scrimmage on the drive following Strozier's interception. Instead of being picked off and returned for a TD, the pass fell softly to Bradley McDougald, and the Jayhawks stayed close.
The biggest blunder of the night came when USM's Deron Wilson returned Tim Green's blocked punt seven yards for a touchdown that put the Eagles up 21-3 just before halftime.
"We gotta put points on the board. We gotta finish drives," Gill said. "We gotta put consecutive drives together to make sure we keep our defense off the field, especially against this type of offense."
Despite watching Southern Miss score four touchdowns through the first three quarters, the Jayhawks dominated time of possession, holding the ball for nearly eight minutes longer than the Eagles and running nine more plays. What's more, Kansas, which trailed by at least two scores for most of the night, ran 44 rushing plays while attempting just 26 passes.

"We just wanted to mix it up," Gill said. "We thought that was the best thing to do. I thought we had some opportunities."
Though things seemed to be out of reach, the Eagles stamped the unofficial seal of victory when senior defensive back Chico Hunter sacked Webb from behind with 10 minutes to play as the Jayhawks, who trailed 28-10 at the time, went for a fourth-and-three conversion from the USM 30-yard line.
Webb was sacked four times. He was knocked to the ground and forced to flee the pocket several others.
One of the most curious things about the sack was not the play call or that the O-line failed to protect Webb, but the fact that the call came in slowly, and the Jayhawks, who lined up in a power rushing formation, seemed frenzied to get the snap off despite having a timeout remaining.
That was sort of the theme of the night. Other than an inspiring start to the second half, in which KU scored on a fourth-down run from Deshaun Sands and stopped Southern Miss three-and-out on its first two drives, the Jayhawks were flat, out of sync and overmatched.
"We played a good team," safety Olaitan Oguntodu said. "But we were there. Sometimes you just gotta make plays. That's just what it boils down to."
Added Webb when asked about the mind-set of the team after the game: "We just lost a football game. You can't really be too happy right now."
There were a few positives. Though Webb struggled in the pocket most of the night, he did enough with his feet to keep plays alive and demonstrated toughness and a fighter's spirit.
In addition, freshman tailback James Sims passed his second audition to become the Jayhawks' featured back, gaining 74 yards on 20 carries, most of which went between the tackles.
Despite his solid night, Sims was more concerned with his team's failure to show up from the start than his own numbers.
"I was surprised," Sims said. "Coming off that (Georgia Tech) win, that's not how you're supposed to play."
Copyright 2018 The Lawrence Journal-World. All rights reserved. This material may not be published, broadcast, rewritten or redistributed. We strive to uphold our values for every story published.