It would be tough to have a better night than Lawrence High's Jamal Brown had.
Photo Gallery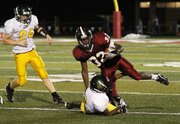 LHS football vs. Shawnee Mission South
The homecoming game for Lawrence High Football on September 17, 2010.
He found out he had been named homecoming king after he came out of the locker room at halftime.
"I was very excited," Brown said.
Minutes later, he forced a Shawnee Mission South turnover-on-downs with a tackle on fourth-and-one at the LHS 26-yard line. His helmet came off on the play, and he threw a huge fist-pump toward the student section.
"I was too excited," Brown said.
His dad, Gilbert, former defensive tackle for Kansas University and the Green Bay Packers, flew down from Michigan to watch his son play for Lawrence for the first time.
And, oh yeah — the Lions cruised to a 28-7 victory over South in their homecoming game.
Jamal Brown, who plays right tackle and nose guard, opened holes on offense and closed them on defense. The Raiders only had 95 total yards — 92 through the air and three on the ground.
LHS coach Dirk Wedd said defense won the game.
"It's a shame that we didn't pitch a shutout," Wedd said. "Defensively, we were more like a Lawrence High football team. We flew to the ball. I'm not sure what the stats were, but they couldn't move the football."
The Lions certainly moved it. Junior running back Charles Jackson picked up 140 yards on 15 carries.
The offensive line set the tone on Lawrence's first drive. A South fumble gave Lawrence the ball at South's 21-yard line. Two rushing plays later, senior receiver Chris Gaston scored from five yards out on an end-around.
After a South offsides penalty on the point-after attempt, Wedd sent out his offense to go for the two-point conversion. The play?
Run it. Behind Jamal Brown.
Jackson followed Brown into the end zone for the conversion.
"We're not trying to trick anybody, let's put it that way," Wedd said.
Gilbert watched his son from the sideline with a couple of friends.
"They were like, 'Who's that remind you of?'" Gilbert Brown said. "But he's still young. He's got a lot of things to work on, but it's a good thing."
Jamal might need to work on keeping his helmet on, but his stop on fourth-and-one was a pretty legitimate impression of his father. The Lions methodically moved the ball down the field and scored on a two-yard dive by Jackson.
Behind Jamal Brown, of course.
"That made me feel like I did something for my team," Brown said.
Jackson, who eats lunch with Jamal Brown "about every day," said he has a lot of confidence in him.
"I trust him," Jackson said.
So does Brown have confidence in himself?
On the field — absolutely. He said he doesn't talk trash to players until after the play, though.
"I just let him know I'm the man around here," Brown said. "He's not going to get anything."
Off the field, it's a different story. Asked why he thought he won homecoming king, Brown looked up and thought for a few moments. Then he shrugged.
"I don't know," Brown said.
Jackson said he knows why.
"Jamal's the man," Jackson said. "He's a good guy in school, too. He gets everything done."
That raises one question: Can Jamal dance at homecoming today?
Jackson laughed at the thought.
"Jamal?" Jackson said. "He gets down."
Copyright 2018 The Lawrence Journal-World. All rights reserved. This material may not be published, broadcast, rewritten or redistributed. We strive to uphold our values for every story published.