Kansas City, Mo. — The Royals offense got going early and helped Zack Greinke win for the first time in a month.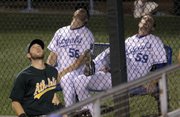 Wilson Betemit homered and drove in four runs to help Kansas City beat the Oakland Athletics 11-3 on Tuesday night.
Kansas City scored all its runs with two outs and in the first three innings. That's the most runs the Royals have scored in a game since beating Houston 15-7 on June 15.
"After the third inning, it was pretty hard to lose that game, so just try to do your thing and whatever," Greinke said. "The offense really carried that game. It really wasn't anything I did."
Kila Ka'aihue also homered and drove in three runs while Mike Aviles hit a three-run shot. He had three hits and scored three runs and has homered in back-to-back games after going 316 at-bats without a home run.
Betemit, who had three hits, delivered run-producing singles in the first and second and hit a two-run homer in the third.
Ka'aihue homered in the first with Betemit aboard. His single in the second scored Billy Butler.
"It's unlike Gio (Gonzalez)," Ka'aihue said. "He's usually all over the place and effectively wild. Tonight, he was throwing quality strikes. He had been pitching really good and fortunately we got him early. I hit that one pretty good. As a whole on the night, the four swings I took before the strikeout were probably the best quality four swings I've taken in a single game up to this point for sure."
Greinke (9-12), the 2009 American League Cy Young Award winner, claimed his first victory since Aug. 17. He pitched out of a bases loaded jam in the first by getting Mark Ellis to ground into an inning ending double play.
"The whole thing started when Zack got us out of the bases loaded double play single-handedly," Ka'aihue said. "He didn't really dig himself into a hole. They hit some good pitches. But that's just Zack. That's how good he is. He didn't win the Cy Young by accident."
Greinke gave up three runs on six hits and four walks in seven innings.
"It made things easier," Royals manager Ned Yost said of the early lead. "Zack was on top of his game, too. That always helps when you can get Zack a lead and let him go. It was a big night for Ka'aihue. Gonzalez is very tough of left-handed hitters and Kila really got us going with a home run in the first inning.
"Aviles has been displaying some power of late. It was nice to put some balls out of the park and put some runs on the board."
Copyright 2018 The Associated Press. All rights reserved. This material may not be published, broadcast, rewritten or redistributed. We strive to uphold our values for every story published.