In a normal year, farmers say this fall's pumpkin crop wouldn't be much to get excited about.
But because soggy conditions last year made for a dismal showing of Douglas County pumpkins, farmers are at least thankful for an average year.
On the street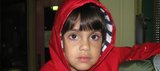 Yup, for Halloween. It was fun.
"It's not one of our better crops with all the triple digits we had in August," said Janet Schaake, whose family operates Schaake's Pumpkin Patch east of Lawrence. "After it cooled down a bit and we started getting a few rains, they started setting on. They're going to be a little bit later, but they'll still be in time for when we open."
And that's just fine for Schaake and her family members who are preparing for legions of schoolchildren and visitors beginning Sept. 25.
Last year, heavy rains late in the season did some damage to pumpkins, and the Schaake family had a crop about one-third the normal size on the 24-acre patch.
"The pumpkins laid in a lot of moisture and wet ground. We had a lot of rotting last year," she said.
Another pumpkin farmer, Mike Garrett, agreed this year's crop is a little better than last year and close to normal. He hopes to start cutting pumpkins soon to offer them later this month.
"They'll be plenty of selection, small to large. I just won't have any monsters," said Garrett, of Mike Garrett Farms about 1.5 miles east of the Teepee Junction north of Lawrence on U.S. Highway 24-40.
Janet Schaake says her family members are keeping their fingers crossed for some rain — but not too much — in coming weeks. This is their 35th year operating the pumpkin patch. She said it would likely take several days of rain to cause a major problem.
"It should be better than last year," she said. "You never know what Mother Nature's going to deal you. You just hope for nice days and not a lot of rain."
Copyright 2018 The Lawrence Journal-World. All rights reserved. This material may not be published, broadcast, rewritten or redistributed. We strive to uphold our values for every story published.