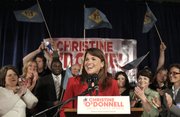 Washington — Virtually unknown a month ago, Christine O'Donnell rode a surge of support from tea party activists to victory in Delaware's Republican Senate primary Tuesday night, dealing yet another setback to the GOP establishment in a campaign season full of them. A second insurgent trailed narrowly in a long, late count for the GOP nomination in New Hampshire.
O'Donnell defeated nine-term Rep. Mike Castle, a fixture in Delaware politics for a generation and a political moderate. Republican Party officials, who had touted him as their only hope for winning the seat in the fall, made clear as the votes were being counted they would not provide O'Donnell funding in the general election campaign.
She enters the fall race as an underdog to Chris Coons, a county executive who was unopposed for the Democratic nomination. The Republican state chairman, Tom Ross, said recently she "could not be elected dogcatcher," and records surfaced during the campaign showing that the IRS had once slapped a lien against her and her house had been headed for foreclosure. She also claimed falsely to have carried two of the state's counties in a race against Vice President Joe Biden two years ago.
With unemployment high and President Barack Obama's popularity below 50 percent, Republicans said a run of hotly contested primaries this spring and summer reflected voter enthusiasm that will serve the party well in the fall. The GOP needs to win 40 seats to take the House and 10 for control of the Senate.
Democrats counter that the presence of tea party-supported Republicans on the ballot on Nov. 2 would prove costly to the GOP. That proposition will be tested in seven weeks' time in Senate races in Nevada, Colorado, Florida, Kentucky — all states where establishment Republican candidates fell in earlier primaries — and now Delaware.
In the other marquee race of the night, for New Hampshire's Republican Senate nomination, former Attorney General Kelly Ayotte edged ahead of Ovide Lamontagne as returns piled up after midnight. Her lead was roughly 1,000 votes with results tallied from three-quarters of the state's precincts.
Ayotte was backed by establishment Republicans as well as former Alaska Gov. Sarah Palin. Lamontagne, a former chairman of the state Board of Education, campaigned with the support of tea party activists.
The winner will face Democratic Rep. Paul Hodes, who is giving up his seat in the House to run for the Senate.
Nearly complete returns from Delaware showed O'Donnell with 53 percent of the vote. "Don't ever underestimate the power of 'we the people,"' she told supporters who cheered her triumph.
But Coons issued a statement moments after Castle's defeat. "We cannot let Joe Biden's seat fall into ultraconservative hands," he said.
In other races, Democratic Attorney General Andrew Cuomo of New York faced no opposition for the party's nomination for governor, and he will be the prohibitive favorite in the fall for an office his father held for three terms.
Political novice Carl Paladino, a wealthy developer who enjoyed tea party support, defeated former Rep. Rick Lazio for the Republican nomination. Lazio angled for the conservative nomination and a spot on the November ballot anyway.
Wisconsin businessman Ron Johnson defeated two minor opponents for the Republican nomination to oppose three-term Democratic Sen. Russ Feingold in November in what polls show is a tight race. Johnson has said he will spend millions of his own money to finance his campaign through Election Day.
In all, five states chose nominees for the Senate, and six more had gubernatorial hopefuls on the ballot in the final big night of a primary season marked by recession and political upheaval. The winners have scant time to refocus their energies for midterm elections on Nov. 2.
Copyright 2018 The Associated Press. All rights reserved. This material may not be published, broadcast, rewritten or redistributed. We strive to uphold our values for every story published.