Istanbul, Turkey — Kevin Durant beamed as he listened to his national anthem, which hadn't been played at the end of the world championship in 16 years.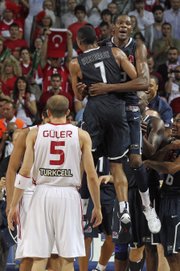 And that was no "B-Team" standing beside him on the center of the medals platform.
It was the best team in the world.
The United States won its first world championship since 1994 on Sunday, beating Turkey, 81-64, behind another sensational performance from the tournament MVP.
Durant scored 28 points, setting a record along the way for most in the tournament by a U.S. player. He left the court with 42 seconds remaining and shared a long hug with coach Mike Krzyzewski, who finally won the world title after his previous two attempts ended with bronze medals.
"Our only option was to come out here and get a gold, and it feels really good to bring this back home to the States," Durant said.
Lamar Odom added 15 points and 11 rebounds for the Americans, who won gold in the worlds for the fourth time, doing so with a team that was no sure thing after coming to Turkey without the superstars from its Olympic gold medal team.
With Kobe Bryant, LeBron James and Co. sitting home, this group was called a "B-Team," which the players were aware of and couldn't wait to disprove.
"I think that was extra motivation," Durant said. "It was exciting to come out here and win and also to prove people wrong."
And they came through where many of their bigger-name predecessors couldn't four years ago in Japan in the world championship, beginning to quiet a raucous crowd midway through the second quarter with a superb defensive effort.
"I thought we rallied and we became a little bit of an unconventional team," Krzyzewski said. "We thought we could win, we just felt it would be a lot harder, and they worked real hard and they made it happen."
Durant, who scored 33 and a U.S.-record 38 points in the previous two games, again took care of the offense, qualifying the U.S. for the 2012 Olympics.
Hedo Turkoglu of the Phoenix Suns scored 16 points for the Turks, who were bidding for their first title and were boosted by huge crowd support, with fans in red filling most of the 15,000-seat Sinan Erdem Dome.
Lithuania beat Serbia for the bronze earlier in the day.
Durant scored 20 in the first half, then hit consecutive three-pointers early in the third quarter, yelling at Turkish fans sitting courtside and pounding his chest after the second, as the U.S. quickly extended a 10-point halftime lead.
The Americans already knew they'd be bringing a different team to Turkey after all the gold medalists from the 2008 Olympics opted to take this summer off. Then All-Star forwards Amare Stoudemire and David Lee were forced to withdraw on the opening day of training camp.
The U.S. was left with a young, undersized team, featuring six players 22 or younger and only one true center in Tyson Chandler, who quickly became a backup when forward Odom was installed as the starter.
"This team had a lot of character and poise," Odom said.
Copyright 2018 The Associated Press. All rights reserved. This material may not be published, broadcast, rewritten or redistributed. We strive to uphold our values for every story published.