The Kansas Board of Regents this week will consider a plan that would allow universities to keep state sales taxes collected on their campuses as a way to raise scholarship funds.
On the street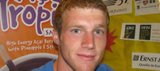 Yes because I feel the scholarship program needs to be expanded to better reward students for doing well in high school.
In other matters, the board, which meets Wednesday and Thursday, will decide whether to give pay raises to university chief executives, who saw their salaries frozen last year because of state budget problems.
The regents also will consider designating Gene Budig as chancellor emeritus at Kansas University. And the regents will hear an update from KU Chancellor Bernadette Gray-Little on the KU athletics department.
The sales tax proposal is among several aimed at enhancing higher education funding.
During the past two fiscal years, state funding to state universities has been cut by approximately $100 million, or 13 percent.
In preparation for the 2011 legislative session, the board is considering a revenue package increase that includes additions of $20.5 million in the system-wide operating grant, $15.75 million to take care of building repairs and renovation, and $14.5 million for a workforce and economic development initiative.
And in an effort to help more students with tuition, the board has discussed creating a need-based financial aid program for students who do not qualify for Pell grants and whose family income is below the state's median level.
The program would be financed by recouping state sales tax collected on state university campuses and by a state university match. About $6 million per year in state sales taxes is collected on campuses at bookstores and other outlets.
The board is scheduled to finalize its budget submission to the governor's office and Legislature on Wednesday.
Copyright 2018 The Lawrence Journal-World. All rights reserved. This material may not be published, broadcast, rewritten or redistributed. We strive to uphold our values for every story published.