Plans for an outdoor "wellness" campus will be up for discussion Monday night by members of the Lawrence school board.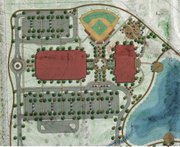 The proposal, backed by the Outside for a Better Inside organization, calls for a gymnasium, wellness center, handicap-accessible ballfield and lake surrounded by walking trails on portions of 115 acres of undeveloped property at the southeastern edge of Lawrence.
Organizer John McGrew has said the initial phase would establish the project's pond and walking trails, work he estimated would cost about $200,000 — money that would be sought from private donors and the federal government. The entire project could cost $25 million, possibly from sources such as Bill Self's Assists Foundation or Michelle Obama's work to combat childhood obesity.
"We're not asking (local governments) for any money," McGrew said earlier this summer.
The property would be located on public land: portions of 40 acres long held by the city, most of it intended for future park development, plus some of an adjacent 75 acres acquired last year by the Lawrence school district for $1.7 million.
The district bought the 75 acres so it could be held in reserve for future needs, such as a possible school or schools. District officials have acknowledged that "community interests" could be considered as potential options for the site.
The two sites are northeast of East 1700 and North 1300 roads, just southwest of where the Kansas Department of Transportation intends to one day build an interchange to connect the existing Kansas Highway 10 with an as-yet-unbuilt eastern leg of the South Lawrence Trafficway.
Scheduled to discuss the plan during Monday's board meeting are McGrew, who is former chairman of McGrew Real Estate; Phil Struble, president of Landplan Engineering; and Hank Booth, director of government and community affairs for the Lawrence Chamber of Commerce.
The meeting begins at 7 p.m. at the district's service center, 110 McDonald Drive.
Also on the meeting agenda:
• Accept a donation of 40 computers and other equipment from Vangent Inc., which no longer needs the items now that it has completed work on the federal Census. The computers, laser printers and other related equipment would be used in district classrooms.
• Review and consider giving preliminary approval to a list of the board's goals for the coming academic year. Among them: "Prepare for future discussion of school boundaries and transfer policies." The list of goals would then be back up for formal approval Sept. 27.
• Accept a donation of $6,000 from the Bess Spiva Timmons Foundation. The money would go toward the purchase of an estimated $11,000 automatic timing system for cross country and track and field competitions in secondary schools. The balance of the money would come from "existing funds" — some of which came from previous fundraising efforts — at Lawrence and Free State high schools, said Frank Harwood, the district's chief operating officer.
Copyright 2018 The Lawrence Journal-World. All rights reserved. This material may not be published, broadcast, rewritten or redistributed. We strive to uphold our values for every story published.