SAN BRUNO, CALIF. — All that was left of some houses Friday were chimneys, rising from still smoldering ruins. Burned-out cars sat along ash-covered streets. And a rescue worker with a dog searched door to door for missing people.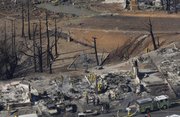 The day after a gas line ruptured and a towering fireball roared through a suburban San Francisco neighborhood, killing four people, officials were trying to determine what led to a blast that raised questions about the safety of similar lines that crisscross towns across America.
"It was pretty devastating," Fire Chief Dennis Haag said. "It looks like a moonscape in some areas."
At least 50 people were hurt, with seven suffering critical injuries in the explosion Thursday evening that left a giant crater and laid waste to dozens of 1960s-era homes in the hills overlooking San Francisco Bay.
The utility that operates the 30-inch diameter line said it was trying to find out what caused the steel gas pipe to rupture and ignite. Federal pipeline safety inspectors were also on the scene Friday afternoon.
"It was just an amazing scene of destruction," National Transportation Safety Board vice chairman Christopher Hart said.
Some residents said they smelled gas in the neighborhood over the past several weeks. The utility said it was checking its records for the complaints, but added that none of its crews were at work on the line Thursday.
Compared to the tens of thousands of miles of gas pipelines across the country, accidents are relatively rare.
In 2009, there were 163 significant accidents involving natural gas pipelines, killing 10 people and injuring 59.
Transmission lines like the one that burst in San Bruno deliver natural gas from its source to distribution lines, which then carry it into neighborhoods before branching off into homes.
Over the past two decades, federal officials tallied 2,840 significant gas pipeline accidents nationwide — including 992 in which someone was killed or required hospitalization, according to the Pipeline and Hazardous Materials Safety Administration.
Those accidents killed 323 people and injured 1,372.
Experts say the nation's 296,000 miles of onshore natural-gas lines routinely suffer breakdowns and failures.
More than 60 percent of the lines are 40 years old or older and almost half were installed in the 1950s and 1960s, according to a recent analysis by the Pipeline Safety Trust, a nonprofit advocacy group based in Bellingham, Wash.
Most of the older pipelines lack anticorrosion coatings that are prevalent in the industry today, said Carl Weimer, executive director of the trust, which was set up following a 1999 explosion that killed three people in Bellingham.
"The industry always says that if you take care of pipelines, they'll last forever," Weimer said. "But what we see over and over again is companies are not doing that and corrosion and other factors are causing failures."
And once a high-pressure pipeline fails, he added, anything can trigger a deadly blast. A cigarette or rocks smashing as high-pressure gas shoots by. Even someone answering a cell phone can cause a spark, because it is battery-powered, Weimer said.
Federal investigators will analyze the pipeline's condition, along with its maintenance history, pressure levels and the safeguards put in place to prevent pressure from building up, Hart said. The NTSB will also look at the training and experience of the people who operated the pipeline and screen them for alcohol and drugs.
State Assemblyman Jerry Hill, who represents San Bruno and surrounding cities, said he has heard multiple reports from constituents who had alerted PG&E; of gas odors in the neighborhood before the disaster.
The residents "deserve to know if PG&E; used the correct procedures in the days and weeks leading up to this disaster," Hill said.
PG&E; President Chris Johns said the company has heard the reports of a gas odor in the area before the blast.
"Right now, we haven't got confirmation about that, but we have records that we are going back right this minute to try to confirm what exactly those phone calls look like and when they occurred, and we will report back as soon as we know something," he said.
Copyright 2018 The Associated Press. All rights reserved. This material may not be published, broadcast, rewritten or redistributed. We strive to uphold our values for every story published.