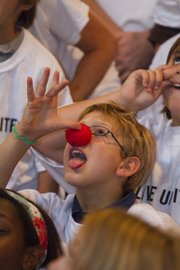 With bands, games, hot dogs and clowns on tap, Lawrence families didn't let the rain stop them from attending the United Way's Community Campaign Kickoff Carnival at Abe & Jake's Landing.
The weather forced organizers to seek shelter and move the event away from South Park on Thursday evening.
The annual kickoff, which had previously been a formal breakfast recognizing donors that lead the fundraising effort, was opened to everyone and family friendly this year.
Organizers hoped to raise awareness about the United Way campaign and convince more people to give.
"We would love to add another 500 new donors, people who are new to giving and invite them to give at whatever level," United Way of Douglas County President and CEO Erika Dvorske said.
The United Way, which serves 24 area social service agencies, set its fundraising goal at $1.76 million this year. The amount is a less than 1 percent increase from what was raised during last year's campaign.
"The need is high, and it continues to be a very challenging economic environment," 2010 United Way Campaign Chairwoman Beverly Smith Billings said. "We are going to work hard and do everything we can to meet that goal."
Twenty businesses throughout Douglas County have already run pacesetter campaigns and another 100 business campaigns are about to get under way. So far, the United Way has reached 20 percent of its fundraising goal.
"We want people to be aware that the United Way campaign is going on," Dvorske said. "And we want the entire community to be invited to invest in human services across the community."
Part of Thursday's event involved an improvised group photo at Abe & Jake's by local artist Stan Herd. Because of the rain, the organization had to abandon plans for attendees to stand in the shape of the United Way logo in South Park, where mow lines had been created to form the image.
Dvorske said they still hope to take that photo when the weather clears.
Copyright 2018 The Lawrence Journal-World. All rights reserved. This material may not be published, broadcast, rewritten or redistributed. We strive to uphold our values for every story published.