Lawrence High sophomore Carly Davis was quietly making her way through the final match of her first day as a varsity tennis player Wednesday when, suddenly, a hush fell over the crowd as she walked off the court, blood streaming down her face.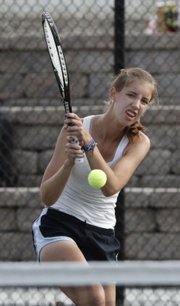 Davis had cut herself above the left eyebrow with her racket on her follow-through. After her parents helped her wash away the blood, Davis returned to the court and finished the match.
She didn't win the match, but played better after the injury.
"The toughness award, without a doubt, has to go to Carly Davis," LHS tennis coach Steve Hudson said. "To come back out and compete really hard like nothing really happened is pretty cool. It's not something you see every day, a lot of blood gushing down a girl's head in a tennis match. I saw blood dripping down half her face, and my heart sank."
Davis was not the only one at the quad — Free State placed first, winning 11 of its 12 matches, Shawnee Mission South second, Lawrence High third, Olathe South fourth — who made a smashing debut on the new, beautiful, eight-court facility next to Lawrence High's baseball field. Free State newcomers Libby Hillis and Alexis Czapinski made it clear that more than just the Firebirds' future looks bright. They were instant hits.
"Those two ninth-graders on the doubles team are really, really strong," Free State coach Oather Strawderman said. "Strong players, year-round players, great technically. Most importantly, they're just really, really competitive, want-to-win athletes."
Free State defeated LHS, 3-1. Senior Morgan Manger scored the only victory for the Lions, winning the No. 1 singles match.
Manger said she does not anticipate playing tennis in college because she wants to attend a Div. I school and is looking at Michigan, Northwestern, Yale and Kansas.
"Her intelligence is a big weapon," Hudson said. "Her demeanor on the court … she doesn't have the high highs and low lows. She's not a roller coaster. I call that a roller coaster. She's not. She's more like a nice smooth ride on the court, which is what you want mentally."
Junior Taylor Eubanks also had a strong performance for the Lions.
For Free State, Czapinski teamed with Kelly Phelps to form a strong No. 1 doubles team, and Caitlin Tilden and Hillis stood out. Jackie Garcia won all of her singles matches, and Emily Sadosky won all but one of hers.
The new courts, which opened late in the boys' season last spring, were a big hit.
"It's pretty rare you get to play on new courts," Shawnee Mission South coach Stephanie Graham said. "You can see both sets of courts. It's really nice. I like everything about it."
Said Manger: "I really like them a lot, especially the bleachers, and that tree (pointing) provides a lot of shade. It's hard to find tennis courts with shade."
Manger, who made it to state as a singles player, showed good chemistry with ninth-grader Zoe Schneider.
Copyright 2018 The Lawrence Journal-World. All rights reserved. This material may not be published, broadcast, rewritten or redistributed. We strive to uphold our values for every story published.