Washington — Job openings are rising modestly, a sign that employers may step up hiring soon.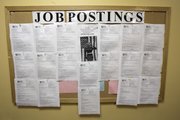 But rising openings in the past year haven't reduced unemployment, heightening concerns that the unemployed might lack the skills to fill the jobs that are coming available. If companies have openings but can't find qualified workers, that will make it even harder to lower the unemployment rate.
Some economists argue that the broader problem is that the economy just isn't generating enough jobs.
The number of jobs advertised rose by 6.2 percent to 3.04 million in July, according to the Labor Department's latest data. That's the highest total since April, when temporary census hiring inflated that month's figure. But even with the increase, total openings remain far below the 4.4 million that existed in December 2007, when the recession began.
Openings have risen 30 percent since July 2009, when they fell to their lowest level on records dating to 2000. Yet the unemployment rate has actually ticked up during that period, from 9.4 percent a year ago to 9.6 percent last month. Private employers added a net total of only 67,000 jobs in August, the government said Friday. That's below the roughly 100,000 jobs a month the economy needs just to keep up with population growth.
Copyright 2018 The Associated Press. All rights reserved. This material may not be published, broadcast, rewritten or redistributed. We strive to uphold our values for every story published.