New York — Venus Williams arrived at this U.S. Open with a bum knee. She hadn't played a match in more than two months. She hadn't reached the semifinals at any Grand Slam tournament in more than a year.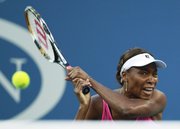 And now? Williams is two victories away from her first U.S. Open title since 2001.
The No. 3-seeded Williams overcame nine double-faults and a total of 33 unforced errors to beat reigning French Open champion Francesca Schiavone, 7-6 (5), 6-4, in the quarterfinals Tuesday night.
"I want to be in the final, because then obviously it's just one more step," the 30-year-old Williams said. "But I'm just focused on the semis, and I don't get too excited unless the tournament is over."
Next up for Williams is a semifinal against defending champion Kim Clijsters, who ran her U.S. Open winning streak to 19 matches by eliminating French Open runner-up Sam Stosur, 6-4, 5-7, 6-3.
Williams is the only American singles player left in the 2010 tournament, because the last of the country's 15 men in the field, 20th-seeded Sam Querrey, lost, 7-6 (9), 6-7 (5), 7-5, 4-6, 6-4, to No. 25 Stanislas Wawrinka of Switzerland earlier Tuesday.
It's the second consecutive year that zero U.S. men reached the U.S. Open quarterfinals, something that hadn't ever happened before 2009. And this is the first season that the United States didn't place a man in at least two Grand Slam quarterfinals since the French Open first admitted foreigners in 1925.
Wawrinka, who joins Roger Federer to give Switzerland two quarterfinalists at a major for the first time, takes on No. 12 Mikhail Youzhny of Russia for a semifinal berth. Youzhny eliminated unseeded Tommy Robredo of Spain, 7-5, 6-2, 4-6, 6-4.
Robredo was one of five Spanish men in fourth-round action Tuesday — and the others all played countrymen. No. 8 Fernando Verdasco closed out his thrilling 5-7, 6-7 (8), 6-3, 6-3, 7-6 (4) comeback victory over No. 10 David Ferrer — only the second match Verdasco's ever won after dropping the opening two sets — with as spectacular a match-ending shot as any.
Nearly 4 1⁄2 hours in, Verdasco found the energy to sprint from the baseline up to get to a drop shot and whip a forehand around the post for a winner.
Watching on TV in the locker room were No. 1 Rafael Nadal and No. 23 Feliciano Lopez, who were waiting to follow Clijsters and Stosur into Arthur Ashe Stadium.
Nadal then went out and showed no mercy for Davis Cup teammate and pal Lopez, beating him 6-3, 6-4, 6-4 in a match that ended at 12:16 a.m. today.
Copyright 2018 The Associated Press. All rights reserved. This material may not be published, broadcast, rewritten or redistributed. We strive to uphold our values for every story published.