Minneapolis — Jim Thome's home run in the fifth inning was one of those shots fans will remember for a while. But it was Jason Kubel's homer moments earlier that sparked the Minnesota Twins to another victory.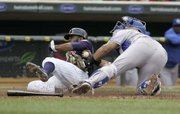 Kubel hit the go-ahead homer, and Thome launched his 585th career home run one batter later, powering the Minnesota Twins past the Kansas City Royals, 5-4, on Monday.
The fifth-inning homers kept the Twins 3.5 games ahead of Chicago in the AL Central. The White Sox beat Detroit, 5-4 in 10 innings.
"Biggest hit of the ballgame right there," Twins manager Ron Gardenhire said of Kubel's opposite-field home run. "That really got us going and gave us a lift."
Just as fans were settling back into their seats at Target Field, Thome hit a blast off the top of the American flagpole beyond the right-field bleachers.
"I was in the middle of him throwing a fastball and a changeup," Thome said while trying to suppress a grin. "He threw a changeup, and I was fortunate to square it up. It feels very good when you square one up like that, for sure."
He is one homer shy of Frank Robinson for eighth all-time.
The homer by Thome traveled so far, it required multiple viewings by the Twins public-relations staff to get an accurate estimated distance. It was eventually announced at 480 feet.
"It was down. He took his driver out and tried to give someone a souvenir downtown," Royals starter Sean O'Sullivan said.
Bryan Pena led the Royals with two hits and two RBIs. Chris Getz and Yuniesky Betancourt also drove in runs.
With the score 2-all, Kubel hit his two-run homer off O'Sullivan (2-5). Thome connected one batter later.
The Royals had an opportunity to build on their 2-1 lead in the fourth, but Mitch Maier's liner was caught by Kubel in right field.
"For me, the big play was just Mitch's line drive," Royals manager Ned Yost said. "Because you can't scald a ball any harder than he hit it with the bases loaded. Right at him."
Kevin Slowey made his first start for the Twins since injuring his right triceps on Aug. 21. He threw 77 pitches in four innings and allowed two runs and seven hits.
Jeff Manship (2-0) gave up two runs in two innings. Matt Capps needed just eight pitches in the ninth to record his 10th save in 12 chances with the Twins.
Five different Twins relievers helped preserve the victory, Minnesota's 17th in its last 20 home games.
The Twins have relied a lot on their bullpen lately. Eight of Minnesota's last nine games have been decided by one run.
"You don't have to tell me that, I know," Gardenhire said. "We can't get to sleep at night. We've needed our bullpen to step up for us and we're going to need them down the stretch."
The Royals play both the Twins and the White Sox this week and Yost said before the game that he plans to play his best players in each game.
"In fairness to Minnesota and Chicago, we're playing everyone at their best position," he said. "Of course I have guys I want to look at and evaluate in certain situations, but we're going to do that more after this week."
The Royals certainly didn't look like a team that was just playing out the string.
After the Twins went ahead in the fifth, an RBI double from Pena and a groundout by Betancourt made it 5-4.
Center fielder Gregor Blanco threw out Denard Span at the plate in the eighth, which prevented the Twins from adding a valuable insurance run.
"When you're playing games like these, even though for you it's not a playoff game or whatever, it has that feel still," Maier said. "So to get to play games like these where you've got big crowds and every pitch means something, it's only going to make us better."
Copyright 2018 The Associated Press. All rights reserved. This material may not be published, broadcast, rewritten or redistributed. We strive to uphold our values for every story published.