A former Catholic priest arrested in Lawrence last week on a Texas warrant accusing him of committing sex crimes against children said Tuesday he thought the case had been dropped and didn't intend to run from authorities.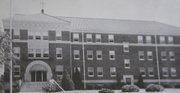 Open and transparent. That's the wording of reforms within the Catholic Church promoting openness with the public about cases of sexual abuse committed by clergy. But a two-year Journal-World and 6News investigation into the Kansas Catholic Church shows that church officials continue to keep the public in the dark about some cases of abuse.
"I want you to know that I wasn't trying to hide," John M. Fiala told a judge. "I was open about where I was, and there wasn't any attempt on my part to hide and flee from justice, anything like that."
Fiala is wanted by authorities in Edwards County, Texas, on four counts of sex crimes against children, according to the U.S. Marshal's Office. Federal and local authorities arrested him Friday in the 800 block of East 11th St.
Fiala was removed from the priesthood in 2008 after the allegations in Texas surfaced.
According to news reports, Fiala had several priest assignments, including in Shawnee in 2001 followed by several months in Holton. He also worked as spiritual director from 1998 to 2001 at a religious order that had a house in the Diocese of Kansas City-St. Joseph. No reports have detailed any sexual abuse allegations against Fiala while he was in Kansas or Missouri.
He faces a hearing Sept. 14 in Douglas County, where Fiala could either waive his right to fight extradition and be sent to Texas or ask for a future extradition hearing here. Judge pro tem James George set Fiala's bond at $100,000, cash only.
Copyright 2018 The Lawrence Journal-World. All rights reserved. This material may not be published, broadcast, rewritten or redistributed. We strive to uphold our values for every story published.