Red-shirt freshman Caroline Jarmoc led Kansas University's volleyball team to a sweep of Chattanooga and earned MVP honors Saturday at the Jayhawk Classic.
Photo Gallery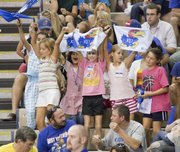 KU volleyball vs. Chatanooga
Jarmoc led Kansas with 2.6 kills per set and a .512 attack percentage over the two-day tournament, which culminated in a 29-27, 25-22, 25-19 victory over the Mocs at Horejsi Center.
Kansas improved to 7-0, its best start since opening the 2004 season 8-0.
Jarmoc had eight kills with a .400 hitting efficiency against Chattanooga (0-6).
Joining Jarmoc on the all-tournament team were teammates Allison Mayfield and Kara Wehrs. Mayfield, a junior outside hitter, chipped in eight kills, seven digs and two blocks in Saturday's victory, while Wehrs had 32 assists to go along with another strong offensive outing.
The freshman setter collected six kills and no errors for a .667 attack percentage as well as a pair of service aces.
"I was happy with the way we responded in end-game situations," KU coach Ray Bechard said. "It wasn't our best effort from an execution standpoint.
"I thought there were some plays that defined the match — some effort plays that sometimes, if you're not playing your best from a statistical standpoint, can really impact the match and I thought that's what we did."
Kansas, which also won the Creighton Bluejay Invitational last weekend, will host Middle Tennessee State at 6:30 p.m. Tuesday at Horejsi Center.
Copyright 2018 The Lawrence Journal-World. All rights reserved. This material may not be published, broadcast, rewritten or redistributed. We strive to uphold our values for every story published.