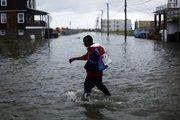 Chatham, Mass. — The remnants of Hurricane Earl dumped wind-driven rain on Cape Cod's gray-shingled cottages and fishing villages Friday night, but its close brush with the Northeast was less intense than feared only hours earlier.
Earl swooped into New England waters as a tropical storm with winds of 70 mph after sideswiping North Carolina's Outer Banks, where it caused flooding but no injuries and little damage.
The storm's approach disrupted vacations on the unofficial final weekend of the summer, but the swirling rain it brought to Cape Cod, Nantucket Island and Martha's Vineyard on Friday was typical of the nor'easters that residents have been dealing with for generations.
Winds on Nantucket, closest to the storm's center, were blowing at around 30 mph, with gusts above 40 mph. The island got about 1.5 inches of rain through 11 p.m., with more expected. Flooding of low-lying areas was expected and damage from tropical storm-force winds was still possible, officials said.
The well-to-do resort island and old-time whaling port briefly saw some localized flooding, but it was typical of summer storms and had cleared within hours, Nantucket Assistant Town Manager Gregg Tivnan said. There were no evacuations, power outages or even reports of trees down, he said.
"The south side of the island certainly did take a hit. We'll assess the damage and the erosion to the beach tomorrow, but so far don't have any report of major damage," Tivnan said late Friday.
In the hours and days before the storm, vacationers had pulled their boats from the water and canceled Labor Day weekend reservations on Nantucket. Shopkeepers boarded up their windows. Swimmers in New England were warned to stay out of the water — or off the beach altogether — because of the danger of getting swept away by high waves.
The storm was expected to pass about 50 to 75 miles southeast of Nantucket after midnight Friday. It had accelerated throughout the afternoon and evening and, National Weather Service meteorologist Rebecca Gould said, was expected to "fly by Nantucket."
The storm weakened faster than predicted and would continue to diminish, Gould said. "We may still see some wind damage on the outer Cape and Nantucket, but it's not going to be substantial by any means," she said.
Earl dulled quickly over the course of 36 hours. At midday Friday, it had dropped to a Category 1 storm — down from a fearsome Category 4 with 145 mph winds a day earlier. At 11 p.m., it was downgraded to a tropical storm.
Officials had warned New England residents against complacency, but many in Chatham, a fishing village at Cape Cod's eastern edge, didn't seem worried.
Tourists strolled past the bookstores, cafes and ice cream parlors on Main Street, where a few stores had put plywood over their windows, including the Ben Franklin Old Fashioned Variety Store. "C'mon Earl, we're ready for you," a handwritten note read.
Late Friday, when it appeared Earl would not deliver its strongest punch, the town's beach turned festive. People ran on the sand and a teenager in an alien-like suit measured wind speeds.
"We're having a great time," said Jodie Charest, 36, of Chatham, who was there with her daughters, Alexis, 15, and Molly, 8. "We just ran down to the beach ... enjoying the rain in our faces and just enjoying the wind in our hair."
Copyright 2018 The Associated Press. All rights reserved. This material may not be published, broadcast, rewritten or redistributed. We strive to uphold our values for every story published.