Kansas University swept Arkansas and Akron in a day/night Jayhawk Classic volleyball doubleheader Friday at Horejsi Center and improved to 6-0 for the program's best start since 2004.
Photo Gallery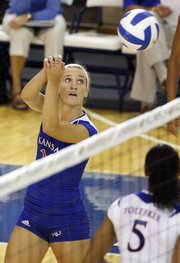 KU volleyball Jayhawk Classic 2010
Kansas downed Akron, 25-15, 25-16, 25-13, in a noon match, then slugged previously unbeaten Arkansas, 25-19, 22-25, 25-20, 25-10, in an evening contest.
Sophomore Morgan Boub served a career-high six service aces versus Arkansas (5-1). Carolina Jarmoc had a personal-best 12 kills, Allison Mayfield nine, Karina Garlington eight, Kara Wehrs seven and Lauren Hagan six.
Mayfield had 11 digs, a solo block and an ace. Wehrs had 10 digs and 33 assists. Tayler Tolefee had a team-high five blocks. Brianne Riley had eight digs.
"Our response in games three and four was really good," KU coach Ray Bechard said. "We got a lot of good production out of our middles, and Boub was outstanding from the service line. We showed a lot of consistency."
Garlington and Mayfield had nine kills apiece versus Akron. Jenna Kaiser had seven kills off .455 hitting efficiency.
"I thought we had pretty good balance offensively, and we hit at a high efficiency," Bechard said. "We served well, too. We out-did them, we just need to get off to a better start next time. We got off to kind of a slow start."
KU, which went 8-0 to open the 2004 season, will meet Chattanooga at 1 p.m. today at Horejsi Center.
Copyright 2018 The Lawrence Journal-World. All rights reserved. This material may not be published, broadcast, rewritten or redistributed. We strive to uphold our values for every story published.