So much football talent graduated from Free State High that it became easy to focus on what the Firebirds didn't have this season. Well, one very hungry senior class showed in Friday night's season opener that the names have changed, but the winning ways remain.
Photo Gallery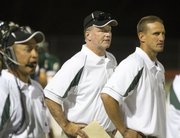 Free State football vs. Olathe South, 2010
With senior two-way stars Preston Schenck and Dylan Perry leading the way, Free State treated the large and loud home crowd to a most-entertaining 42-23 victory against Olathe South.
"We have quite a few seniors, and we know what we're doing," running back/linebacker Schenck said on the field after he ran for 112 yards, including touchdown runs of three and 48 yards and an interception return of 45 yards for another TD. "We've been working really hard to show everybody we're not going to drop off from the last two years."
Playing the position Camren Torneden, Craig Rosenstengle and Ryan Murphy played before him, Perry continued the double-threat tradition with speed and elusiveness.
Deftly using ball fakes to trip up the defense, Perry rushed for 132 yards on 22 carries and completed nine of 13 passes for 150 yards and a touchdown and did not throw an interception on a night Free State won the turnover battle, 4-1.
"For the most part, on his first night out, I'd give him an A because he did a nice job of getting the ball in the right person's hands and leading the offense," Free State coach Bob Lisher said.
Perry hit six different receivers, including fleet junior Desmond Wyatt (two receptions, 46 yards, one TD), senior Tucker Fritzel (two catches, 53 yards) and junior Shawn Knighton (two for 20 yards). Wyatt, son of Kansas University receivers coach Darrell Wyatt, twice used his speed to get well behind the defense, once scoring and once coming back to catch an underthrown ball.
Senior Matt Cole's big day on both sides of the ball was highlighted by a 14-yard touchdown run, and classmate Cody Oller recovered a fumble, forced another and rushed for 16 yards on two carries.
Senior Nate Davis stood out defensively, recovering a fumble and putting heat on the Olathe South quarterback, which led to him hurrying his way into an interception return.
The offensive line — seniors Justin McCandless, Cale Nieder, Zach Saunders and Jake Henley and juniors Caylor Norris and Jimmy Fernandez — and tight end Campbell Fritzel created space for Perry and Schenck to work their magic.
"They played really well," said Perry, who starts fast and finds yet another gear. "They were huge for us. From practice, I didn't think that would be the case, but they really came out ready."
Lisher also praised the blockers.
"To run the ball like we did tonight and to get enough protection to throw the ball like we did, I think the offensive line as a whole had to be pretty good, and that's against an O-South team that has a lot of size," Lisher said.
The Firebirds passed and ran out of so many formations that it appeared to confuse the Falcons. Free State's balance led it to a 14-3 halftime lead, by which time FSHS had rushed for 107 yards and passed for 108.
Olathe South pulled within 14-10 midway through the third quarter on Kendall Harland's eight-yard run, at which point Schenck's two-way skills played a huge part in determining the outcome.
All three of Schenck's touchdowns came in the second half, and his interception return with 6:11 left in the third quarter gave Free State its biggest lead, 35-10, after Colin Phillips' conversion kick. Phillips, a left-footed kicker on the soccer team, made all seven of his extra-point kicks.
Olathe South lost a football game but likely found a new starting quarterback. Sophomore Frankie Seurer, who throws beautiful spirals, came off the bench in the fourth quarter to complete three of four passes for 71 yards and a touchdown. Seurer is the son of former Kansas quarterback Frank Seurer, who had several KU passing records until Todd Reesing broke them.
Copyright 2018 The Lawrence Journal-World. All rights reserved. This material may not be published, broadcast, rewritten or redistributed. We strive to uphold our values for every story published.