Topeka — Kansas Department of Labor Secretary Jim Garner said the state job market is emerging from a tough recession.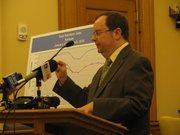 "We find ourselves today coming out of the recession and on the road to recovery," Garner said.
He said that in July, the state experienced job growth for the first time since October 2008, initial claims for unemployment benefits have decreased by a third from a year ago, and the state unemployment rate of 6.9 percent "appears to have reached a plateau."
In 2009, more than 179,000 Kansans received unemployment insurance benefits, a 76 percent increase from the previous year. "Our economy suffered greatly in 2009, due to the great recession experienced in our nation and the significant job losses that resulted," he said.
The state labor department paid out $766 million in state unemployment benefits, $304 million in federal benefits, and $18 million in extended benefits.
Kansas is one of 35 states that had to borrow from the federal government to pay benefits. So far, the state has borrowed $88 million and may need to borrow some more before the year is over.
The agency also is handling a backlog of unemployment claims. The logjam happened because of the delay, caused by Republicans in Congress, by the federal government in approving the continuation of extended benefits, Garner said.
Copyright 2018 The Lawrence Journal-World. All rights reserved. This material may not be published, broadcast, rewritten or redistributed. We strive to uphold our values for every story published.