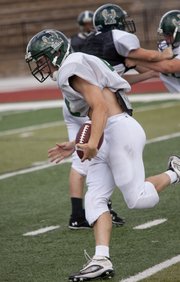 In the past four years, Free State High's football team has averaged 8.75 victories per season and made four appearances in the Class 6A state playoffs.
The Firebirds in that time have not finished any lower than fifth in the Sunflower League.
It's understandable, then, why 14th-year coach Bob Lisher was somewhat surprised when league coaches picked the Firebirds seventh in the 2010 preseason coaches poll.
"We might mention it now and then," Lisher said, asked if he'd use it as a motivating tactic with his team. "It seems like we're picked fourth or fifth every year, and we always seem to get close to the top. Our expectation is to continue to be a quality program like we've been."
The Firebirds will attempt to build off an 8-3 campaign when they open the season at 7 tonight against Olathe South at FSHS.
When Free State takes the field, the Firebirds will have much of the same look that has become expected of classic Lisher teams of the past.
— The spread offense, where speed and misdirection are emphasized.
—A 3-5-3 base defense, utilizing three defensive linemen, five linebackers and three players in the secondary (two cornerbacks, one safety).
Free State's biggest questions will be whether it can replace key contributors and make another appearance in the state playoffs. Several crucial members of last year's offense, including quarterback Camren Torneden, running back Kirk Resseguie, and wide receivers Keene Niemack, Connor Stremel and Aundre Allen, graduated.
Lisher will hand over the keys to the offense to senior quarterback Dylan Perry, who served as Torneden's backup last season.
"It's been pretty exciting, actually," Perry said. "Camren was a great guy to learn under. I hope that I can take what he did and keep playing well at quarterback."
The Firebirds have had a plethora of effective signal-callers in the last five years, including Torneden, Craig Rosenstengle and Ryan Murphy.
Look at the Firebirds
2006: 11-1, tied for first in league
2007: 7-3, fifth in league
2008: 9-4, fifth in league
2009: 8-3, third in league
"I don't think he'll be a guy who falls off the scale too much," Lisher said of Perry.
Lisher described Perry as a dual-threat quarterback who has the ability to make defenders miss in the open field and possesses the smarts to read coverages and make the proper throws.
Surrounding Perry at the skill positions will be running backs Preston Schenck, Matt Cole and Henry Vaeono (all seniors), along with receivers Tucker Fritzel, Tim Lewis, Desmond Wyatt, Shawn Knighton and Nate Davis.
Defensively, senior Justin McCandless will anchor the line at nose tackle, while seniors Zach Saunders and Cale Nieder occupy the end spots.
"We want our D-linemen to control people up front," Lisher said. "(McCandless) is our most experienced guy coming back. We're relying on him to make tackles from sideline to sideline."
Cole, a first team all-league selection a season ago, and Vaeono will return as starters at linebacker, to go along with Davis, Schenck and Lewis.
Perry and senior Cody Oller will start at cornerback, with Fritzel playing free safety.
Any concern with Perry, who will be a first-year starting quarterback, also playing corner?
"Not really," Lisher said. "He just has good athletic ability to begin with. He knows coverages and what to do back there. He has the speed, can jump and just has a nose for the ball as a corner."
Olathe South, the Firebirds' opponent tonight, finished 4-5 last season and missed the playoffs.
"It's about time we play somebody to find out where we are," Lisher said.
Copyright 2018 The Lawrence Journal-World. All rights reserved. This material may not be published, broadcast, rewritten or redistributed. We strive to uphold our values for every story published.